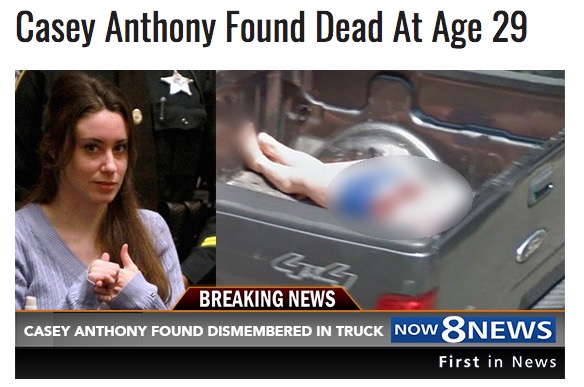 Another day, another death hoax on the Internet. A fake news article, which was about Casey Anthony being found dead in Ohio, recently caught traction. In fact, Casey Anthony has now become a trending search on Google.
This is an actually a pretty old story dating back to September 2015 on the literally fake news site Breaking News 13. Well, another such site, Now8News, once again posted the hoax, "Casey Anthony Found Dead At Age 29."
How it begins:
Unconfirmed reports coming out of Warren, Ohio state that the body of Casey Anthony was found in a rest stop near I-71, bludgeoned to death. At 6:37 PM, a traveler noticed a body in the back of a pickup truck abandoned in a grassy field about 20 yards from the parking area as he was walking his dog.
Snopes.com has called Now8News a "known hoax purveyor" that looks like a real local news site. It has spread stories about Miley Cyrus dying, a woman giving birth to puppies, and both Presidents Barack Obama and Donald Trump signing a bill into law that would reduce the age of consent to 13.
But Anthony is alive, living in Florida, and all things considered, living a pretty low-profile life. When interviewed by the Associated Press in March, she was working for a private detective. She was also seen attending an anti-Trump rally in February.
Anthony has gained infamy for the 2008 death of her 2-year-old daughter Caylee. Prosecutors said she went partying while the girl was missing. Though the jury found her not guilty in 2011 for the death, they agreed that she did give false information to investigators. Anthony was sentenced to four-years behind bars, only spending another month locked up because of time served awaiting trial.
[Screengrab from Now8News]
Have a tip we should know? [email protected]