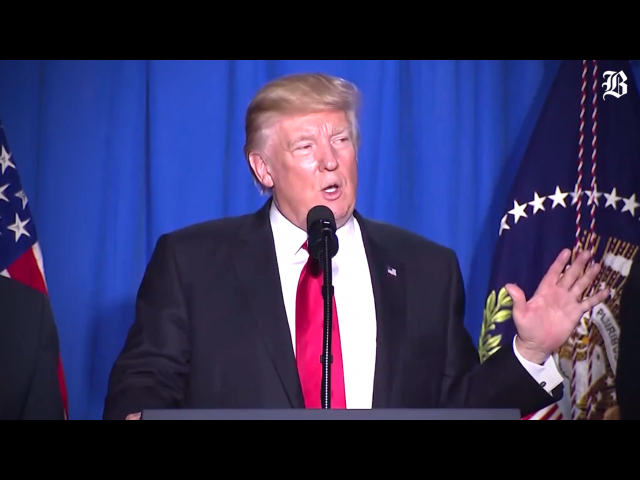 When President Donald Trump issued his executive order  early this week designating sanctuary cities as "ineligible to receive federal grants" so long as they continue to violate federal immigration law, he evidently exempted one major group from the funding cuts — police departments.
The decision has given hope to his critics who believe it makes it more likely a judge will ultimately rule Executive Order unconstitutional.
"The order has serious constitutional problems. Unless interpreted very narrowly, it is both unconstitutional and a very dangerous precedent. Trump and future presidents could use it to seriously undermine constitutional federalism by forcing dissenting cities and states to obey presidential dictates, even without authorization from Congress. The circumvention of Congress makes the order a threat to separation of powers, as well," Ilya Somin, a law professor with George Mason University said in a post for The Washington Post's Volokh Conspiracy blog.
According to Reuters, this is argument is just one legal theory that is expected to be put forth in courtrooms across the country in coming months.  The report states that lawyers for undocumented immigrant advocacy groups are expected to argue that the federal government can only without funding to local governments "if the money is directly tied to the behavior it objects to."
In other words, Trump's critics say he cannot cut funding to sanctuary cities' education and healthcare departments while still allowing federal money to support the police.
The Executive Order has already met with opposition from high-profile mayors like Bill DeBlasio of NYC who reportedly promised his chief legal counsel would be in the court the "hour"any federal money was withheld from his city.
Omar Jadwat, director of the American Civil Liberties Union's Immigrants' Rights Project, said the cities can argue "they are fully in compliance with that statute" since they all technically sharing info with the Feds about criminal undocumented immigrants.  He argues there is nothing preventing cities from continuing to offer unlimited cooperation in dealing with the immigrants without criminal records.
The White House has apparently not directly commented on the opposition proposals, but supporters of the measure, including the Immigration Reform Law Institute, are confident the measure will succeed.  IRLI executive director Dale Wilcox says federal law allows the president to restrict public assistance "of any kind where an illegal alien could possibly benefit."
"The Spending Clause and the Tenth Amendment merely require that any condition placed on a federal grant be 'generally related' to the policy goals of the underlying grant," Wilcox told LawNewz.com.
He added, "The condition President Trump established in his EO is compliance with 8 U.S.C. 1373, which prohibits state and local laws restricting communication with DHS regarding 'immigration status' of 'any person.'"
[image via screengrab]
Have a tip we should know? [email protected]