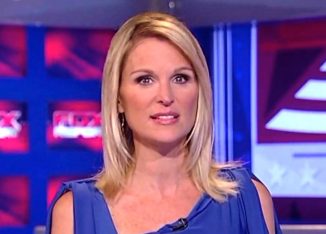 LawNewz.com has learned that in the midst of the fallout from Roger Ailes' ousting, Fox News came to a very quiet settlement arrangement with former Fox News host Juliet Huddy after she lodged sexual harassment allegations against Bill O'Reilly, one of the network's biggest stars, and Jack Abernethy, the newly appointed co-President of Fox News.
LawNewz.com has confirmed the settlement with three separate sources including a former Fox News executive with direct knowledge of the matter. In addition, we obtained a draft of the intent to sue letter which was sent or handed to Fox News and listed the allegations of sexual harassment against both men. While we weren't able to confirm the exact amount of the settlement, our sources tell us the amount paid out was in the high six figures. Neither Abernethy, nor O'Reilly paid any money out personally and, we are told, Abernethy and O'Reilly strongly denied all of the charges made against them by Huddy from the start.
Huddy, through her attorney, sent Fox News the notice several weeks after Ailes was ousted from the network in July. "The letter (from Huddy) contains substantial falsehoods and we won't otherwise comment on this matter," a spokesperson for Fox News told LawNewz.com in a statement.
Huddy, who joined Fox News in 1998, previously served as host on the Fox & Friends weekend edition. In 2010, Huddy had a regular segment on The O'Reilly Factor branded "Did You See That?" and then again a few years later, one called "Mad as Hell" where she would be on set with O'Reilly. Huddy claimed in the legal letter to the network, that her position on O'Reilly's show and the Fox News cable network came to an abrupt end "in retaliation for rebuffing Mr. O'Reilly's advances."
The six-page notice from Huddy's attorney contains certain lurid allegations against O'Reilly and also claims of harassment by newly installed Fox News Co-President Jack Abernethy from when he served as CEO of the Fox Television Stations. This sort of legal letter is usually sent prior to a public lawsuit being filed or as a threat to generate a settlement. In this case, Huddy never filed suit after a settlement agreement was apparently reached. A source close to the matter told us that Fox executives were aware of the allegations against Abernethy and believed them to be false, when he was given a multi-year deal to head up the network alongside Bill Shine.
In the letter, Huddy claimed that during the time she appeared on The O'Reilly Factor, O'Reilly propositioned her on multiple occasions including trying to kiss her when she visited his home near Manhasset, Long Island and making inappropriate phone calls to her. She also claimed there was an incident at a New York hotel after she went to "return a room key" to O'Reilly. In the letter, Huddy said when she refused to comply with O'Reilly's advances, she was booted from the show despite having "one of the highest rated segments." Upon leaving Fox News cable network, Huddy was then transferred to the Fox-owned New York affiliate, Fox 5 New York, where she was given a spot anchoring the 4:30 a.m. time slot, which she considered much less desirable.
Huddy also claimed she faced sexual harassment from Abernethy who "constantly called her at the office and asking her to come by his office." Shortly after receiving the settlement, Huddy abruptly left Fox 5 in New York in September.  The move came a day after Fox settled with Gretchen Carlson, for a reported $20 million.
A source familiar with the matter who does not believe the allegations told LawNewz.com, "There was no sexual harassment. Any purported claim made by Ms. Huddy would be nothing more than opportunistic fabrication concocted to cash in on the legal settlement from Fox News."
Huddy has never addressed the allegations publicly, only offering a short goodbye to her viewers when she left in early September.
"I finally — after years of working in television — understand what it feels to be connected to a community," she said during her last morning segment on Fox 5. "It is time for me now to move on." Huddy noted in her closing segment that she would be spending more time on her "beloved music coverage."
Huddy's family has had a longstanding, close relationship with Roger Ailes. Her father, John Huddy Sr., worked as a consultant for Fox News for many years, and was reportedly one of Roger Ailes' top lieutenants and confidantes before he was fired along with Ailes in July.  Some insiders within Fox have suggested that Juliet Huddy was employed by Fox as a direct result of the family friendship with Roger Ailes. Her brother, John Huddy, now serves at the network's Jerusalem-based foreign correspondent. Juliet expressed her support for the outgoing chairman when he departed the network back in July.
Thank you, Roger Ailes for being a wonderful boss and mentor. I will always appreciate what you've done for me. Again, THANK YOU.

— Juliet Huddy (@JulietHuddyTV) July 21, 2016
Huddy, who is likely bound by a confidentiality agreement, did not respond to repeated requests for comment on this story.
The timing of the pay out is significant because it came amidst of a fury of bad press for the network, including reports of multiple allegations against talent and network executives. Furthermore, Huddy Sr. was considered part of "team Roger" before they both left the network.
In 2004, Bill O'Reilly settled a sexual harassment lawsuit lodged by a former producer.  He told his viewers at the time that there was "no wrongdoing in the case whatsoever by anyone."
A letter sent to LawNewz by O'Reilly's legal counsel and signed by Dianne Brandi, Executive President, Legal and Business Affairs at Fox News states that neither the Fox News Human Resources Department nor the Fox News Legal department had any record of any employee ever lodging a complaint of sexual harassment against O'Reilly. That letter was from September 2, 2016.
[image via screenshot/Fox 5 NY]
Have a tip we should know? [email protected]
Rachel Stockman - President / On Air Host