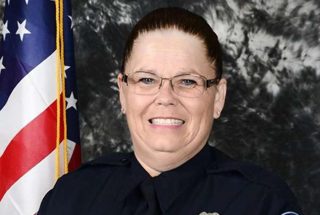 A former police has brought a freedom of speech lawsuit against her city, after she was fired from her job as a police officer. Silivia Cotriss was terminated by the Roswell Police Department in Georgia after the department received a complaint that Cotriss was flying a Confederate flag outside her home.
Cotriss was fired for conduct unbecoming an officer. The complaint, which was emailed to the chief of police in July, said that Cotriss' police vehicle was parked near the flag. In her lawsuit, Cotriss says that her police car could not have been parked near the flag at the time, because  she had sent it back to the department to have the radios replaced.
The former officer claims the flag was put up by her housemate weeks before a complaint was lodged with the police chief. Additionally, Cotriss has denied being aware that the flag was problematic at all.
"If I knew it offended someone, my friends, my family, I wouldn't do it," Cotriss told The Atlanta Journal Constitution at the time. She told the newspaper that she removed the flag after the department told her about the complaint, but the near-20-year veteran was still fired soon after.
Her lawsuit, filed last week against the city of Roswell, Chief of Police Rusty Grant, and other officials, says, "A Confederate flag can communicate an array of messages, among them various political and historic points of view," and that it has been a "generally accepted symbol of Georgia heritage."
Cotriss is looking to be reinstated at her position, or alternatively for 10 years of pay and benefits. Professor Jonathan Turley wrote in a recent blog post that he believes Cotriss has a strong freedom of speech case. "Cotriss has every right to fly the flag for any number of reasons from Southern pride or historical interest," Turley wrote. "She did not bring the flag to work and did not associate the flag with her public service. There is no question that this would be protected speech in the case of an ordinary citizen punished for flying a flag."
The former officer is being represented by the Southern Legal Resource Center, which has a history of taking on Confederacy-related cases. The Center's Facebook page says "Confederate Southern Americans" are "America's most persecuted minority." Its co-founder, Kirk Lyons, has reported social and professional ties to groups like the KKK and the Aryan Nation, although he denies any connection to them.
In a statement on the SLRC's website, Cotriss' lead attorney, David Ates, said, "This sort of high handed politically correct firing by the City of Roswell sets a horrible precedent and endangers the employment and constitutional rights of government employers across the State of Georgia."
LawNewz.com has reached out to Chief Grant for comment but has yet to receive a response.
Cotriss v Roswell by LawNewz on Scribd
[Image via Roswell Police Department]
Have a tip we should know? [email protected]