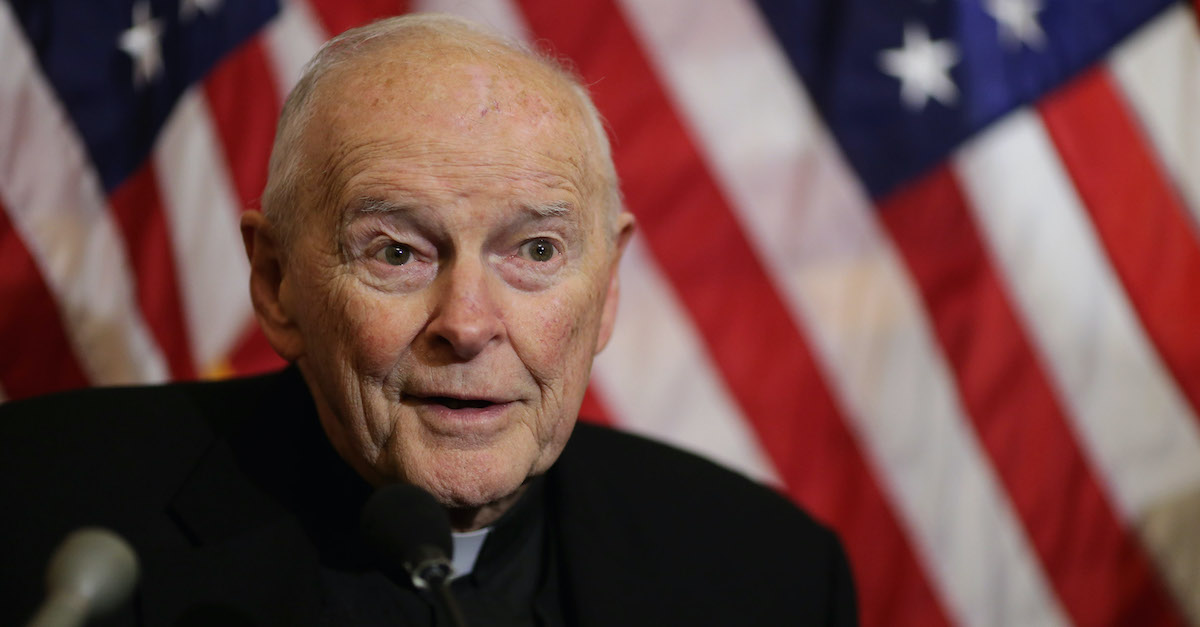 In what has been reported as the first case of its kind, the now-defrocked Cardinal Theodore McCarrick has been criminally charged with sexually assaulting a teenager in 1974 during the wedding reception of the victim's brother. After violating the 16-year-old boy in the coat room, McCarrick told him to say "one our father and three hail Mary's, so God can redeem you of your sins," according to a copy of the criminal complaint obtained by Law&Crime.
The prosecution reportedly makes McCarrick, who formerly served as archbishop of Washington, D.C., the highest-ranking Catholic official in the United States ever to face charges of this kind.
First reported by the Boston Globe—whose Pulitzer-winning Spotlight team exposed systematic cover-up of childhood sexual abuse inside the Catholic church—the new criminal case charges the 91-year-old with three counts of indecent assault and battery on a person over 14.
Wellesley Police filed the criminal complaint Dedham District Court on Wednesday.
"Your Dad Wants You to Come Out with Me"
According to the complaint, authorities interviewed the alleged victim earlier this year on Jan. 11 via Zoom. The complaint summarizes the two-hour interview with the man, who told law enforcement that McCarrick attended Fordham Prep with his uncle.
"He said over the years McCarrick would perform mass for the family during weddings as well as oversee baptisms and funerals for the family," the complaint states.
"During their conversation, [Redacted] outlined various incidents of abuse by McCarrick, most of which took place outside of Massachusetts," the complaint states. "[Redacted] detailed abuse by McCarrick starting when he was a young boy and occurring in New Jersey, New York, Califomla as well as Massachusetts. [Redacted] went into explicit detail about different sexual encounters involving McCarrick including sexual abuse when [Redacted] was older that occurred in hotels in Newton, MA."
The man—whose identity is shielded in court papers—alleged that one of those incidents occurred on June 8, 1974, a date he recalled because "it occurred at his brother's wedding reception."
He says he was 16 years old at the time.
According to the complaint, the man told authorities that McCarrick approached him and said, "Your dad wants you come out with me and have a talk. You're being mischievous at home and not attending church. We need to go outside and have a conversation."
McCarrick chided the then-16-year-old to do better in school, in a conversation that took a detour about 15 minutes away from the reception, the man told authorities.
After the then-teenager said he had to go to the bathroom, McCarrick allegedly told him to go urinate in the bushes and said: "Here, let me help you with that," after the boy removed his penis from his unzipped pants, according to the complaint.
The man told authorities that he "didn't enjoy McCarrick touching him," and court documents call that a prelude for what happened at the reception.
"I Was Still a Naive Young Man"
After returning to the reception, McCarrick and the teen walked in the main doors and sat in a "coat room kind of closet in the front area with a table and two chairs," according to the complaint.
The alleged victim claims that after McCarrick closed the blinds and said that he needed to go to confession, "he knew what was going to happen."
"[Redacted] stated he didn't want to make a scene at his brother's wedding and disturb everything because he had more respect for his mother, father and brother than himself at that time," the complaint states. "McCarrick told him to take his pants off. [Redacted] stated he pushed them down to his knees."
After allegedly remarking about the alleged victim's size and lack of pubic hair, "McCarrick then leans in and kisses his penis and then 'stays over it saying prayers to make me feel holy,'" according to the complaint.
"[Redacted] sald McCarrick finished saying prayers and told him to stand up and pull up his pants," the complaint states.
That is when, according to the complaint, McCarrick told him to recite the Our Father and Hail Marys.
"[Redacted] stated that his father asked how the talk with McCarrick went," the complaint states. "[Redacted] stated he went to confession with him. stated his father was glad he went and talked with McCarrick and his father told him to listen to him and do what he tells you, he's really going to help you."
As the alleged victim recounted to authorities, his father's remark made him think "maybe this was what it was supposed to be. Maybe this was supposed to happen."
"I don't know," he allegedly told police. "I was still a naive young man."
"Uncle Ted"
In 2019, the Vatican defrocked McCarrick after finding him guilty of sexual abuse and released a report about its institutional knowledge a year later. The same year the incident allegedly occurred, then-Monsignor McCarrick met with then-President Gerald Ford in October 1974. Photographs from the Ford Library and Museum show the encounter, where records show Ford and McCarrick seated by a fireplace and discussing drought in Africa.
"During this period, McCarrick grew close to several large Catholic families in the New York area," the Vatican's report states, referring to the ex-cardinal's time as a secretary for New York Archbishop Terence Cardinal Cooke in early-to-mid 1970s.
"Referred to as 'Uncle Ted,' McCarrick often came to be treated akin to a family member," the Vatican's report continues. "McCarrick fostered and embraced this role, and he was a regular guest for dinners and holidays in more than one family. With their parents' permission and encouragement, McCarrick also began to travel with teenagers from the families, whom he called his 'nephews' and 'nieces,' including on overnight trips."
Prominent lawyer Mitchell Garabedian, who is representing the man alleging McCarrick abused him, told the Washington Post: "By coming forward, my client is empowering other victims and making the world a safer place for children."
In a statement forwarded to Law&Crime, Garabedian added: "It takes an enormous amount of courage for a sexual abuse victim to report having been sexually abused to investigators and proceed through the criminal process."
"Let the facts be presented, the law applied, and a fair verdict rendered," he concluded.
He did not immediately respond to Law&Crime's follow-up inquiry. Neither did McCarrick's Washington D.C.- based lawyer Barry Coburn, who told the Washington Post that he looked forward to addressing the matter in court. He sent the identical statement to Law&Crime.
Editor's note: this story has been updated post-publication to include details from the criminal complaint.
(Photo by Chip Somodevilla/Getty Images)
Have a tip we should know? [email protected]
Adam Klasfeld - Managing Editor