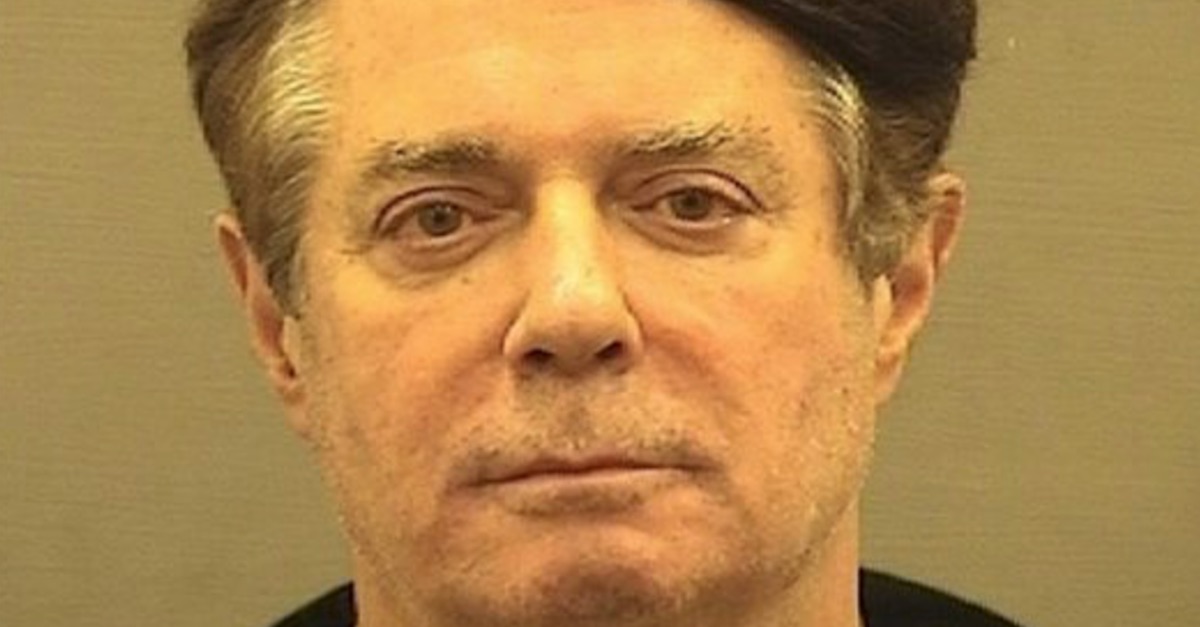 All of the legal problems for figures like former Trump campaign chairman Paul Manafort and former Trump attorney Michael Cohen faded into the background until the midterm elections passed, but since that time special counsel Robert Mueller has been very busy.
Days after Mueller filed a sentencing memo for fired national security advisor Michael Flynn, Mueller has filed a detailed account of the lies Manafort allegedly told investigators after Manafort reached a cooperation agreement with the special counsel. The Friday filing was much-anticipated.
Mueller previously promised to detail the "nature" of the lies that Manafort told, saying the following:
After signing the plea agreement, Manafort committed federal crimes by lying to the Federal Bureau of Investigation and the Special Counsel's Office on a variety of subject matters, which constitute breaches of the agreement. The government will file a detailed sentencing submission to the Probation Department and the Court in advance of sentencing that sets forth the nature of the defendant's crimes and lies, including those after signing the plea agreement herein.
Unfortunately, just as was the case with Michael Flynn, much of the Manafort 11-page document, particularly the area detailing the offense, was redacted. But Mueller did reveal a few notables.
What Happened Before the Deal Fell Apart
Mueller said that it told Team Manafort on Nov. 8, 2018 that Manafort "lied in multiple ways and on multiple occasions." They said meetings occurred on Nov. 13, 16 and 26 and that the government explained why it believes Manafort lied. Mueller said that he even agreed to an extension on filing the status update on Manafort's cooperation (or lack thereof) so Manafort's lawyers could sort this out.
"In none of the communications with Manafort's counsel was any factual or legal argument made as to why the government's assessment of Manafort's credibility was erroneous or made without good faith," Mueller said.
Remember Manafort's "Russian brain"?
Then came another revelation. Mueller said that Manafort breached his plea agreement in "numerous ways by lying to the FBI and Special Counsel's Office." The special counsel said that one of the "principal lies" related to Konstantin Kilimnik. If the name Konstantin Kilimnik sounds familiar, that's probably because it was mentioned almost in the same breath as the news the Manafort was hit with witness tampering charges. Back in June, Mueller issued a superseding indictment, adding obstruction of justice and conspiracy charges to a litany of lobbying and fraud offenses to Manafort's charges. It was then that Kilimnik was slapped for lobbying violations.
Manafort referred to Kilimnik as his "Russian brain" in the past. Kilimnik apparently "earn[ed] the title 'Manafort's Manafort.'"
Mueller said that Manafort lied about "interactions with Kilimnik" and lied about Kilimnik's "participation in court two of the superseding information [referred to above]" Mueller also said that Manafort lied about a "wire-transfer to a firm that was working for Manafort," lied about "information pertinent to another Department of Justice investigation" and lied about "his contact with Administration officials."
"The evidence demonstrates that Manafort lied about his contacts. The evidence demonstrates that Manafort had contacts with Administration officials. For instance, in a text exchange from May 26, 2018, Manafort authorized a person to speak with an Administration official on Manafort's behalf," Mueller continued.
Manafort was ordered jailed on June 15 pending the outcome of his trial after he was hit with the witness tampering charge.
Manafort Allegedly Lied About His Contact with Trump Administration Officials
"Separately, according to another Manafort colleague, Manafort said in February 2018 that Manafort had been in communication with a senior Administration official up through February 2018," Mueller continued.  "A review of documents recovered from a search of Manafort's electronic documents demonstrates additional contacts with Administration officials."
It's not clear who these Trump Administration officials are or what these communications were about.
Mueller Is Prepared to Prove That These "Lies" Are Not a Case of Manafort Misremembering
In closing, Mueller said that Manafort "told multiple discernible lies" that "were not instances of mere memory lapses."
"If the defendant contends the government has not acted in good faith, the government is available to prove the false statements at a hearing," he concluded.
You can read the full filing below:
Robert Mueller Details Manafort's "Lies" by Law&Crime on Scribd
[Image via Alexandria Detention Center]
Have a tip we should know? [email protected]