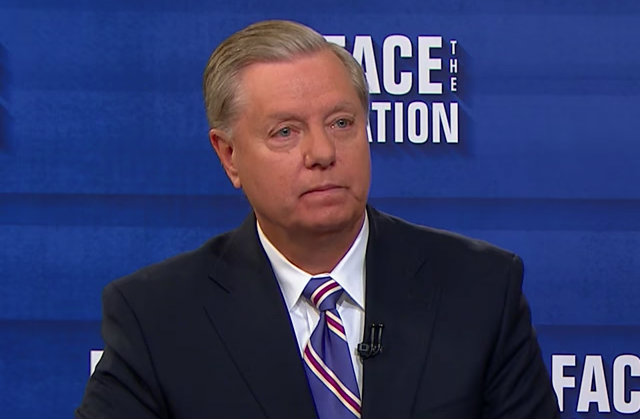 Can the president commit obstruction of justice, in spite of what Trump lawyer John Dowd said? Well, yeah.
"There's the 'Can you be charged as a civilian with obstruction of justice?' debate," Sen. Lindsey Graham (R-SC), a former military lawyer in the U.S. Air Force, told Roll Call in a Monday report. "Then there's the 'Can obstruction become a high crime and misdemeanor?' debate. And the answer to that is yes. You've got Clinton, you've got Nixon, so there's plenty of precedent that obstruction of justice can be a 'high crime or a misdemeanor' under the Constitution for impeachment purposes."
The House impeached President Bill Clinton in 1998 in part under one count of obstruction of justice. Richard Nixon resigned before near certain impeachment–The allegations against him also included obstruction of justice. Graham, though, said that charging a POTUS in federal or state could remained an "unsettled question."
The obstruction question popped up this month when Donald Trump's lawyer John Dowd talked with a Axios in a December 4 report.
A "President cannot obstruct justice because he is the chief law enforcement officer under [the Constitution's Article II] and has every right to express his view of any case," Dowd argued.
And boy, does our president love to express his views of law enforcement cases, including a special counsel's investigation into Russian interference in the 2016 election, and whether the Trump campaign helped out.
Dowd is representing POTUS in this probe. He said he drafted the Trump tweet which seemed to show that the president already knew that Michael Flynn lied to the FBI months ago.
I had to fire General Flynn because he lied to the Vice President and the FBI. He has pled guilty to those lies. It is a shame because his actions during the transition were lawful. There was nothing to hide!

— Donald J. Trump (@realDonaldTrump) December 2, 2017
It's a bit of a convoluted story, but here's the general timeline. Flynn lost his job as National Security Adviser in February. Then Trump fired FBI Director James Comey, who was overseeing the FBI's Russia probe. The president said it's because Comey did a bad job running the agency, but some pundits suggested it was to undermine the feds' Moscow investigation, and that this could be evidence of obstruction of justice. Comey eventually claimed the president asked him in February to drop the FBI's probe into Flynn.
The FBI's Kremlin and Flynn probes were later folded into Special Counsel Robert Mueller's investigation.
Trump called the Russia allegations a "witch hunt" by Democrats.
[Screengrab via Face the Nation]
Have a tip we should know? [email protected]