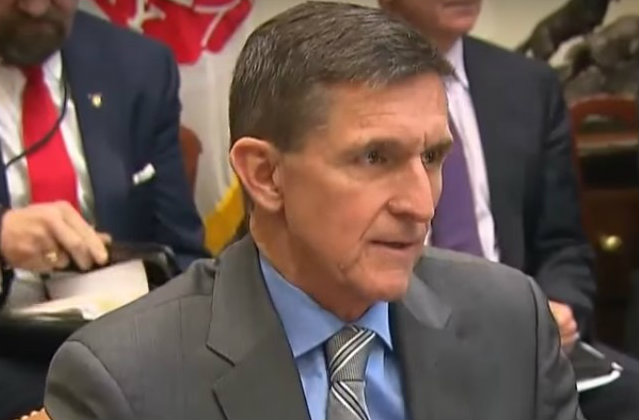 For months, former National Security Advisor Michael T. Flynn faced public and official scrutiny. That may soon lead to charges. Special Counsel Robert Mueller's team has collected enough evidence to bring claims against him and his son Michael G. Flynn, according to NBC News. The outlet relied on "multiple sources familiar with the investigation." A Mueller spokesperson and attorneys for both Flynns declined to comment to the outlet.
Mueller is setting sights on the elder Flynn, according three of NBC's sources. Investigators will reportedly talk to witnesses about Flynn's lobbying work, alleged money laundering, and alleged lying to federal agents about overseas contacts. Two officials told the outlet the probe will extend to whether Flynn worked in exchange for money to illegally extradite to Turkey a political enemy of Turkish President Recep Erdogan. Three sources said the younger Flynn, who worked with his father, could face charges separately or at the same time as his dad. Two of the sources said the older Flynn could make things easier by cooperating to save his son.
The special counsel is investigating whether Donald Trump's campaign helped the Russian government interfere in the 2016 election, but based on what's publicly known, that doesn't mean these hypothetical charges would have anything to do with that allegation. Flynn did lobbying work during the U.S. presidential campaign, but it was only this year that he registered his lobbying firm as a foreign agent for a Dutch firm connected to the Turkish government. There also may be the possibility that he broke the law for talks he had during the presidential transition, in which he and the Russian ambassador discussed sanctions against Moscow. (He may have not broken the law. It's kind of complicated.) Flynn has also snubbed congressional subpoenas in their own probes, leaving him open to legal consequences.
The Russia probe already led to charges unrelated to the Kremlin. A grand jury indicted former Trump campaign officials Paul Manafort and Richard Gates, saying they served as unregistered agents of the Ukrainian government. Counts including money laundering and conspiracy against the United States (the latter charge is more mundane than it sounds). Both defendants pleaded not guilty. Though there are links to Russia–they had strong connections with pro-Russia President Viktor Yanukovych–these charges don't have anything to do with the interference accusation.
Flynn has consistently denied wrongdoing.
"Gen. Flynn certainly has a story to tell, and he very much wants to tell it, should the circumstances permit," Robert Kelner, Flynn's lawyer, said back back in March, according to CNN. His client was seeking (and later failed to get) immunity. He later added, "No reasonable person, who has the benefit of advice from counsel, would submit to questioning in such a highly politicized, witch-hunt environment without assurances against unfair prosecution."
In another case linked to the Russia probe, Trump campaign adviser George Papadopoulos pleaded guilty on Oct. 5. He admitted to lying for the FBI about his conservations with a Russian professor who promised "emails" and "dirt" on Hillary Clinton.
President Trump has called the Russia probe a "witch hunt" by Democrats.
[Screengrab via Fox News]
Have a tip we should know? [email protected]