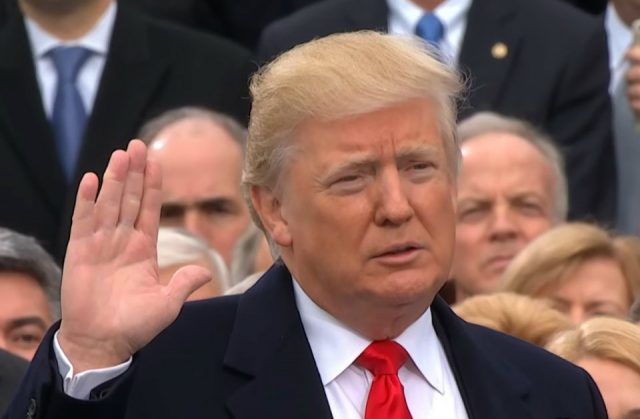 A small consortium of government watchdog and ethics groups formally submitted a letter on Wednesday asking United States Attorney Preet Bharara of the Southern District of New York to open a formal investigation into The Trump Organization to ensure it is not acting as an essential conduit through which President Trump maybe be financially benefitting from foreign governments in violation of the Constitution's "Emoluments Clause."
Democracy 21, Citizens for Responsibility and Ethics in Washington (CREW) and the Campaign Legal Center (collectively the "Ethics Groups") signed the joint letter sent to Bharara's office on Wednesday.  LawNewz obtained a copy of the letter and spoke briefly with Democracy 21 President Fred Wertheimer.
Wertheimer said there "is a powerful record that President Trump is receiving benefits that do not comply with the Emoluments Clause" and that it is "now incumbent on Bharara to conduct an investigation of The Trump Organization and to take appropriate steps to prevent the organization from serving as a vehicle for President Donald Trump to receive benefits from foreign governments that violate the Emoluments Clause."
He added, "The focus of our request for an investigation and action regarding The Trump Organization and preventing it from receiving and passing on to Trump (as owner) benefits from foreign countries that violate the Emoluments Clause."
As LawNewz's own Rachel Stockman previously explained in depth, the Emoluments Clause essentially means that federal officials are prohibited from accepting gifts from foreign governments "without the consent of the United States Congress."  As her article explains, there is no real clear accepted legal reasoning or opinion about how the Emoluments Clause applies, or if it even covers the president.
However, the Ethics Groups believe it clearly applies and President is blatantly flouting it.  They say his refusal "to give up ownership of the Trump Organization" has basically allowed Trump to continue to benefit personally by acting as President of the United States and personal businessman.
"Published reports indicate that the Trump Organization and related Trump business entities have been receiving payments and other benefits from foreign government sources which benefit President Trump through his ownership of the Trump Organization and related Trump business entities," the letter states.  Among the reports cited in the letter are claims that Trump has some 49 patent applications pending in China, that the Trump Tower has tenants controlled by foreign countries and that his new Washington D.C. hotel has reportedly been used to court various foreign diplomats.
Overall, the letter argues sufficient evidence exists of "multiple examples of the world-wide business enterprises owned by President Trump that are receiving payments and financial benefits from foreign governmental interests that benefit President Trump in his continuing capacity as the owner of the Trump Organization and related Trump business enterprises."
Additionally, the letter states the failure of the U.S. Attorney to act on the request will leave the country "exposed to foreign governments directly and indirectly providing payments and financial benefits to President Trump when those foreign governments may be seeking to influence Executive Branch policies and positions," which is "precisely the kind of problem that the Founding Fathers acted to prevent by including the Foreign Emoluments Clause in the Constitution."
According to the Washington Post, the White House referred all questions about the letter to the Trump Organization and the company's attorney, who called the claims "factually inaccurate, legally erroneous and politically motivated."
[image via screengrab]
Have a tip we should know? [email protected]