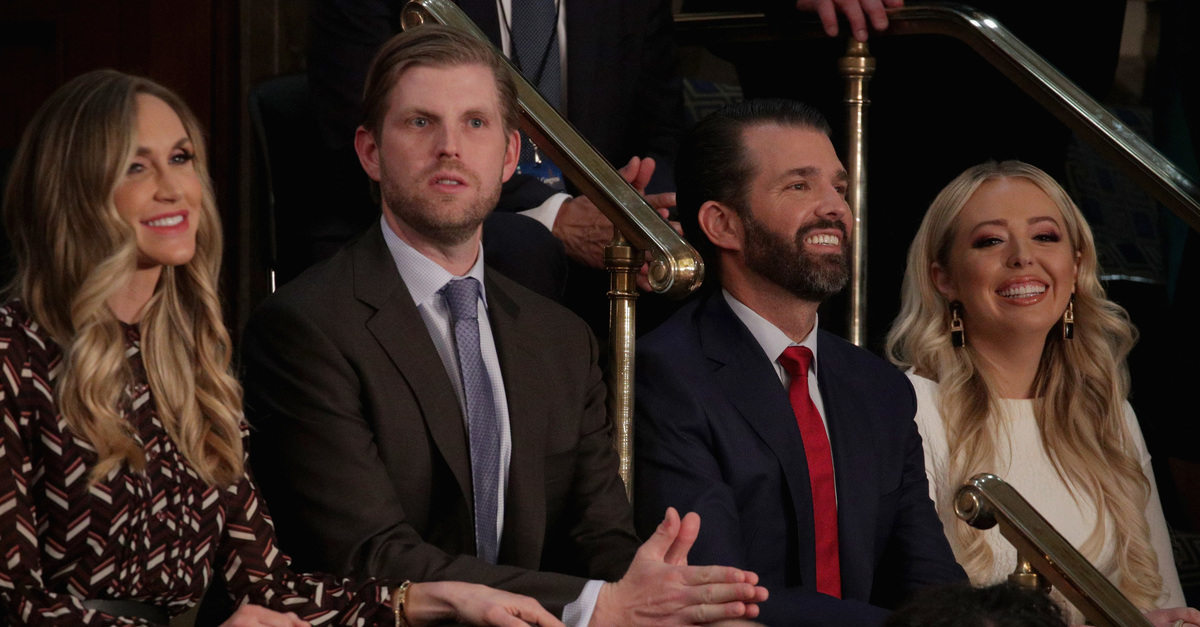 Two sons of President Donald Trump reportedly hired an undocumented immigrant to be the caretaker of the Trump family hunting retreat. That man, Juan Quintero, was recently fired after a series of exposés revealed Trump businesses routinely trafficked and employed undocumented persons.
According to the Washington Post, Quintero worked for the Trump family in two separate roles over the course of 18 years. His day job was turf maintenance at the Trump National Golf Club Hudson Valley in Upstate New York. After those eight-hour shifts, Quintero would drive 20-30 minutes northeast and give the Trump family an additional five hours of his labor at the Leather Hill Preserve.
And all the while–until that recent spate of bad press–Quintero worked for the Trumps without ever providing any proof of documentation of his immigration status.
Per the Post's reporting:
Quintero said he never directly told Eric Trump about his immigration status. But he said he remained employed by the hunting lodge for more than a year after not providing the owners with a Social Security number when they sought to issue him a debit card.
At the lodge, Quintero was essentially the go-to man who kept everything in order. He almost always worked alone and oversaw planting of crops in line with planting schedules he taught himself for the job, performed needed repairs, cleared brush and mowed grass, alerted the owners to any safety hazards, and maintained a fleet of off-road vehicles. He was once instructed to install plumbing in a chicken coop.
"It was the first time I was responsible for an estate or property like this," Quintero told the Post. "It felt like a new challenge in life."
Quintero lost both of his jobs in January, after The New York Times published an article alleging that management at many of Trump's business helped undocumented immigrants flout immigration and labor laws–even as the White House came down increasingly hard on undocumented immigrants via both policy and rhetoric.
Then came February, and with it, a Washington Post article that detailed an alleged "pipeline" of undocumented Costa Rican immigrants who went to work at a Trump property–all of this apparently facilitated by the Trump Organization itself.
As Law&Crime reported at the time, immigration law experts described the Trump Organization's undocumented immigrant pipeline as "a decades long multi-state criminal conspiracy perpetrated by the President of the United States to violate immigration, visa, and trafficking laws."
After these reports, the Trump Organization apparently took action and let workers go.
"All of the years you give them, and they just let you go," Quintero told the Post. "They do not say, 'Let's do something, let's try to help you.' They simply said, 'Your documents are not valid,' and that is it."
Now he's coming forward because he doesn't know what else to do.
"I want them to recognize the good that we do," Quintero said. "Eighteen years of working should shed a light that we are not the people that he says we are: bad, rapist, drug dealers, the worst that they say that we are."
Apparently canned from both jobs so that Trump and his family can save face, Quintero now fears he'll be deported and separated from his wife and their four sons–all of whom are American citizens.
Quintero's lawyer, Anibal Romero, represents many such immigrants recently fired by the Trump Organization and its affiliates.
Romero told the Post that his clients are currently cooperating with authorities on a broad range of potential issues and should therefore be shielded from deportation.
"They are material witnesses to federal and state crimes, and any attempt to remove them from the United States should be considered obstruction of justice," he told the outlet.
Immigration advocate David Leopold, an attorney with DHS Watch and legal consultant to Romero, echoed that call for protection in comments made to Law&Crime.
Immigrants taken advantage of by the Trump Organization forward need to be shielded from deportation, Leopold said, via either the "T" visa program–afforded to victims of human trafficking–or the "U" visa program which is given to victims of a crime who have suffered substantial abuse and who agree to cooperate with law enforcement.
"DHS has the power to give [such immigrants] 'continued presence' right away as this investigation goes forward and as these workers seek counsel and apply for protective visas," Leopold said.
It is presently unclear which agencies, if any, are currently planning immigration or human trafficking-related charges against the Trump business empire–but Quintero's story could seemingly implicate at least one of President Trump's sons in the matter.
Details from the report show an intimate degree of oversight exercised over Quintero by Eric Trump–who co-owns the hunting range with his brother Donald Trump Jr. and other partners.
"Juan — how are the fields coming along," Eric Trump asked Quintero last spring. "They need to be planted in the next week or so in order to make the season. Hope you are great."
"I'm working in it," Quintero replied.
Just over a week later, Eric Trump grew impatient and texted Quintero about the fields again
Hi Juan. How is the planting coming along? Did you ever get to the small fields — the two off of the rifle range and the soy bean plot?
To which Quintero replied: "Rapido, my friend."
In that same text exchange, another Leather Hill owner, Jeffrey Ferraro, added even more urgency to the ask.
"Mas rapido pot [sic] favor" Ferraro wrote.
[image via Alex Wong/Getty Images]
Have a tip we should know? [email protected]