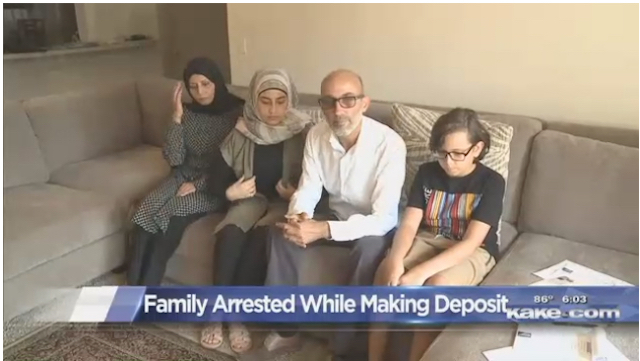 An entire Arab-American family in Kansas was arrested after the father attempted to deposit a large check at a local bank.
Sattar Ali had just sold his old house in Dearborn, Michigan. Then he took the obvious and logical next step–depositing the check into his account at Emprise Bank in Wichita. The check was quite large–written in the amount of $151,000. But Ali came prepared.
He brought multiple verification documents. He even explained to bank employees that he wasn't attempting to cash the check; he just wanted to deposit it so that he could eventually buy a new house. Speaking to local news station KAKE, Ali said:
I went to the bank to deposit the check and I took all of the documents with me to verify. And I told them I don't need it until I find a house. So keep the check with you, verify, take your time. Simply we were just going there to deposit a check. We were not asking for money.
That's when the cops arrived and the handcuffs came out. Ali continued, "And I was talking to them for less than five minutes and I found the police behind me, handcuffed me, confiscated everything and took me outside."
And, when Ali was placed in a squad car for his inexplicable detention, he found his wife, Hadil Ali, and their 15-year-old daughter, Hawra Ali, waiting inside the cop car as well. No less than 15 police cars arrived on the scene.
The family was then detained and taken downtown for questioning–in separate cars; locked in separate rooms.
The Ali family was ultimately held for nearly three hours before being allowed to leave. Sometime during that inauspicious ordeal, Wichita police contacted the school administration of Ali's 11-year-old son, telling them to hold him because his family was in police custody. Ali went on to note:
We were devastated. Terrified. Crying the whole time. We had no idea what the arrest was for. They didn't say why or what happened or what did we do. I'm trying to figure out what did we do.
A statement released by the Wichita Police Department explains that police were called by Emprise Bank on suspicion of forgery after Ali attempted to deposit the check because employees could not verify its "legitimacy." A statement provided by Wichita Police Department Officer Charley Davidson goes on to say:
Officers detained a 49-year-old man when they arrived, believing a crime was in progress. Officers on scene made attempts to verify the legitimacy of the check, and were unable to do so. Wichita Police Detectives were utilized as part of the investigation due to their expertise and access to additional resources. The Detectives, using the additional resources, were able to verify the legitimacy of the check. Officers released the man and explained to him, and two other people with him, the causes of concern.
LawNewz spoke with Officer Davidson attempting to clarify why Ali's family was taken into custody as well, but this was still unclear at the time of publication. This post will be updated if and when that issue is cleared up.
Emprise released a statement of their own. It reads, "We are aware of a situation at the 21st and Woodlawn branch yesterday and can confirm that our team acted in accordance with our policies and procedures. If faced with the same circumstances today, we would expect our team to take the same actions."
LawNewz repeatedly attempted to clarify Emprise's statement. Initially speaking with a bank employee named Jordan via the bank's "Live Chat" feature, Jordan, who refused to identify herself fully, also refused to provide contact information for the bank's press department when notified of the issue in question.
Eventually, LawNewz spoke with Jen Caughran, a public relations employee with Emprise Bank who refused to identify her exact title there. When pressed as to whether calling the police under the circumstances is in line with the bank's official policy, Caughran stonewalled, refused to answer any further questions and then hung up.
Further emails and messages were left with Emprise Bank's public relations department, human resources department, incoming CEO Matt Michaelis and the manager of the branch where Ali and his family were detained. This post will be updated if and when any of those responses are received.
Sattar Ali and his family lived in Wichita from 1998-2008 after immigrating to the United States in 1993. They eventually moved to the bustling and welcoming community of Dearborn, Michigan but decided to give Kansas another try so that Sattar could finish his doctorate in engineering at Wichita State–where his son is currently a freshman.
After his experience with Emprise Bank and the Wichita Police Department, however, Ali, who believes he was racially profiled, is having second thoughts. He said:
Does Wichita not welcome any foreigners?  Then tell us.  Be up front and forward with people and say, you are not welcome in our city.
[image via screengrab]
Follow Colin Kalmbacher on Twitter: @colinkalmbacher
Have a tip we should know? [email protected]