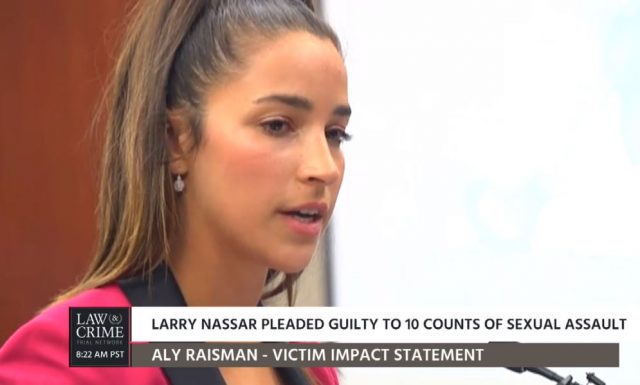 When the sentencing hearing of Larry Nassar began nearly a week ago, more than 80 women and girls had planned to give victim impact statements, describing their experiences with the former Michigan State University and USA Gymnastics doctor, who pleaded guilty to seven counts of first-degree criminal sexual conduct. That number, while sizable, was only a fraction of the number of former patients who accused Nassar of sexual assault. After several days of powerful statements, including those of former Olympians, that number has increased to nearly 160.
The hearing was originally set to wrap up Friday afternoon, but is now expected to continue into Tuesday.
Gold medal winner Aly Raisman spoke on Friday, not just to call out Nassar for abusing her and others, but to lay blame at organizations that empowered and enabled him, like USA Gymnastics and the U.S. Olympic Committee.
"Now is not the time for false reassurances," Raisman told the court. "We need an independent investigation of exactly what happened, what went wrong, and how it can be avoided for the future. Only then can we know what changes are needed. Only then can we know what changes are real."
Other Olympians who spoke out included Jordyn Wieber and Jamie Dantzscher. McKayla Maroney prepared a statement that was read in court.
Hearing strong words from these role models to many, and from dozens of regular women and girls, has given strength to more survivors of abuse to come forward. Others, who planned on speaking anonymously, are now volunteering to make their identities public and to appear on camera while they address Nassar.
MSU gymnast Lindsey Lemke perhaps put it best when she addressed Nassar in the closing words of her statement on Thursday, saying, "You have pissed off the wrong army of women."
[Image via Law&Crime screengrab]
Have a tip we should know? [email protected]