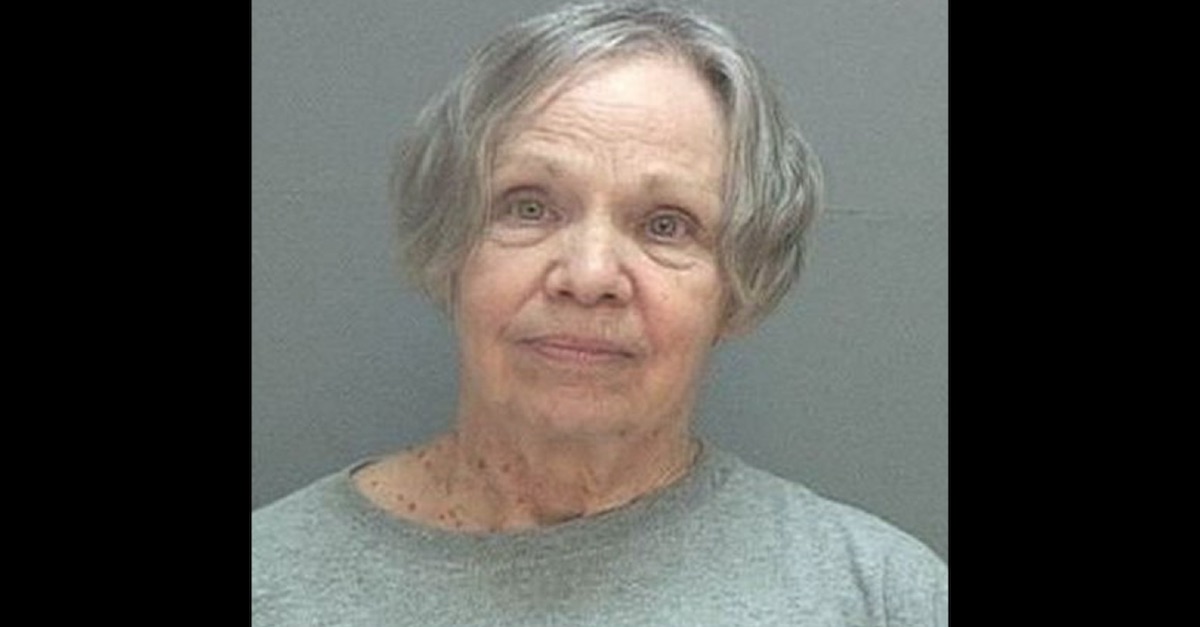 Wanda Barzee, the woman who helped facilitate the 2002 kidnapping of then-teenager Elizabeth Smart, is scheduled to be released from the Utah prison she's long called home.
The 72-year-old felon will be released on September 19 due to state parole officials' decision to credit Barzee for eight years worth of time spent in federal custody. That time served will be retroactively applied to her conviction and sentencing on Utah state criminal charges.
Initially, the Utah Board of Pardons and Parole had declined to take those eight years of federal imprisonment into account when considering the possibility of Barzee being paroled earlier this summer. The board's about-face decision has been described as a "surprise" and comes just months after the initial denial in July of this year.
Barzee didn't help herself much in the process of the original parole hearing. In fact, she didn't even show up for it.
As Law&Crime reported at the time, a member of the pardons and parole board said, "It is my understanding that Mrs. Barzee has refused to attend her hearing." And refuse it she did. The appeal was subsequently denied and that seemed to be the end of the story–under the guidelines Barzee would not have been eligible for parole again until 2024, when she would be nearly 80-years-old.
Ms. Smart expressed her elation at the initial denial of Barzee's parole application. She wrote, at the time:
It's only 11:00am and today has already been an eventful day. This morning was the parole hearing for Wanda Barzee, one of the people who kidnapped and held me captive for nine months. The funny side of this morning was I got to the state prison once it was already over 😬, that was just due to a silly mix up. And the good news is she was not released.
In 2002, Barzee and Brian David Mitchell kidnapped the 14-year-old smart and held her captive for some nine months in Salt Lake City and San Diego, California. Mitchell claimed religious motives and repeatedly raped Smart until she and her captors were discovered after the abduction was heavily publicized on television programs like Larry King Live and America's Most Wanted.
Mitchell is currently serving a life sentence for his role. Barzee was sentenced to two concurrent 15-year sentences in state and federal prison. According to a statement from the Utah Board of Pardons and Parole obtained by Fox 13 Salt Lake City:
Upon further advice from legal counsel, the Board must count time spent in federal custody toward Ms. Barzee's state sentence. Therefore Ms. Barzee's state sentence ends on September 19, 2018.
Barzee's release is likely to prove controversial. When the parole request was declined in July, Smart said that the kidnapper didn't appear to have changed much at all. In an Instagram post, she noted:
I have recently learned that [Barzee] is still carrying around a manuscript called, 'The Book of Immanuel David Isaiah' and is reading from it. In this manuscript were the 'revelations' Mitchell 'received' from God to kidnap myself and 6 other young girls to all become his wives, it also 'revealed' his other highly disturbing and dangerous ideas. This is proof to me that she hasn't changed, and if the prior 15+ years hasn't changed her I don't see how the future years will.
Law&Crime reached out to Ms. Smart for comment but a response was not forthcoming at the time of publication. This is a developing story and this space will be updated if and when Ms. Smart responds or comments publicly on it.
[Image via Salt Lake County Jail]
Follow Colin Kalmbacher on Twitter: @colinkalmbacher
Have a tip we should know? [email protected]