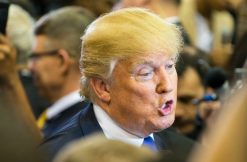 As we mentioned before, Harvard law Professor Lawrence Lessig wrote an op-ed saying the Electoral College should dump Donald Trump and choose Hillary Clinton because she won the popular vote. But one of Trump's noted critics actually thinks this would be a terrible idea.
"Turning the electors into mighty platonic guardians doesn't seem to be the right way to go," UC Irvine Professor Rick Hasen wrote in a Friday blog post. He maintains that "this seems to go against rule of law" since different rules were set up in advance.
Lessig believes that the college acts as a "safety value" to confirm or reject the people's choice. Nonetheless, Hasen, who criticized Trump in October for inciting voter intimidation, argues this proposal creates other problems.
He says that although he considers the college unfair, it's not even certain that Clinton would have won a popular vote if candidates campaigned under that system. Also, he points out that electors are chosen to follow the will of their states' people. If the public expected them to be independent, they would be vetted.
"So yes, I'd love to get rid of the Electoral College," he wrote. "But not ignore it in an election where everyone agreed it was the set of rules to use."
As the current count stands, Clinton won the popular vote by almost 2 million votes, and so it goes, the 2016 presidential election shambles on like the unkillable villain in a horror movie. A Change.org petition with over four million signatures demands that electors choose Clinton. Meanwhile, Green Party candidate Jill Stein just raised millions to demand recounts in three states that Trump won.
[image via stock_photo_world and Shutterstock]
Have a tip we should know? [email protected]