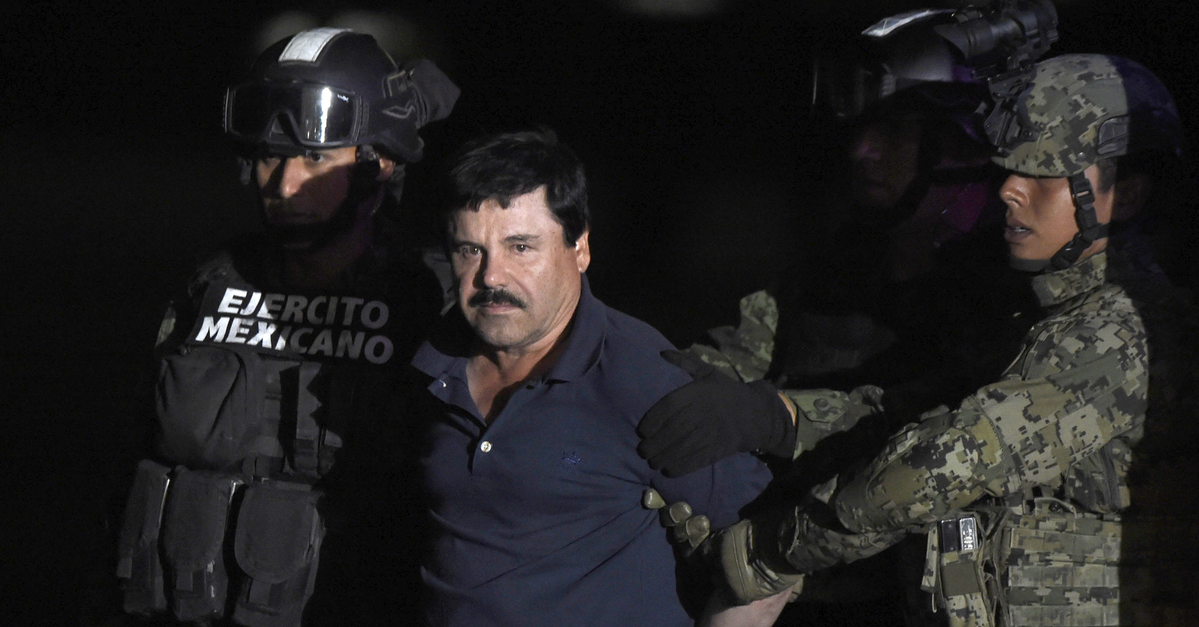 Convicted Mexican drug lord Joaquin "El Chapo" Guzman's defense attorneys did as was expected and moved for a new trial. It happened after explosive allegations were made in a VICE News article that jurors routinely consulted inadmissible evidence and broke court rules like talking to each another about the case in and outside the courtroom.
Defense lawyers Jeffrey Lichtman and Marc Fernich have seized the opportunity well ahead of El Chapo's scheduled June 25 sentencing. They accused the jury of tainting the case by seeking out "prejudicial" information online, engaging in forbidden conversations about the case and then lying about it to U.S. District Judge Brian Cogan.
They attorneys opened with a long rhetorical question.
In the circumstances presented, does the jury's exposure to a flood of presumptively prejudicial extraneous information – including inadmissible allegations that the defendant drugged and raped 13-year-old girls – mandate an evidentiary hearing to determine (a) the misconduct's precise nature and scope; (b) the information's probable objective effect on a hypothetical average jury; (c) whether the jurors' reported lies to the Court upon inquiry dictated disqualification or mistrial; and (d) whether the whistleblowing juror or any other intentionally withheld disabling bias during voir dire, collectively thwarting the defendant's Fifth and Sixth amendment rights to due process and fair trial before an impartial jury?
Yes, they said.
The interesting thing they did next was say that while jury misconduct is "nothing new," there were two factors here that set this incident apart. One factor was that blatantly and matter of factly a juror admitted this. The second was that there was "no apparent agenda" for this.
"One factor that sets these apart is a juror's frank confession that panel members actively sought out and openly discussed the most sensational extrinsic information — including vile allegations that the defendant raped young girls — overtly defying the Court's perpetual injunctions and cannily lying to Your Honor when asked about it," the said. "Another distinguishing feature: a juror with no apparent agenda, ulterior motive or reason to fabricate voluntarily approached a journalist to divulge the misconduct, whereas jurors unhappy with verdicts typically reach out to the defense or are contacted by someone acting on its behalf."
They suggested that the issues raised here are so problematic that judge should follow in the footsteps of his colleagues in the same courthouse:
Where another judge in the same courthouse threatened criminal referrals and promised to "'come down very hard'" on jurors who "'go on the internet, Twitter, and ignore their duties'" – and lie about it to a judge's "face" to boot – anything less than rigorous scrutiny could create an unsettling appearance of inequity.19 As the other judge aptly put it, "'We are here to do justice, not spread gossip about the defendants on trial.'"
It was reported that at least five of the jurors sought out media coverage of the case during the trial. One juror even admitted "jurors did."
Previously, Lichtman and attorney A. Eduardo Balarezo told Law&Crime that they were immediately concerned their client did not get a fair trial, so it seemed likely they might seek another trial. Balarezo filed a letter addressed to Judge Cogan indicating that the defense was prepared to do just that.
After referencing the VICE article, Balarezo said at the time, "Mr. Guzman intends to file motion for a new trial based on the disclosures in the article and to request an evidentiary hearing to determine the extent of the misconduct."
"Mr. Guzman respectfully requests an enlargement of time of 30 days from February 26, 2019 to file the motion," the letter continues. "The defense has sought the government's consent for the enlargement; however, the government has not responded as of the time of filing."
Throughout the trial, the defense argued that Guzman was a fall guy for kingpin Ismael "El Mayo" Zambada. The jury in question found differently. Prosecutors alleged that Guzman trafficked in cocaine, heroin, marijuana, and methamphetamine and secured a conviction, meaning Guzman could spend the rest of his life behind bars.
El Chapo seeks a new trial by Law&Crime on Scribd
[Image via Alfredo Estrella/AFP/Getty Images]
Have a tip we should know? [email protected]