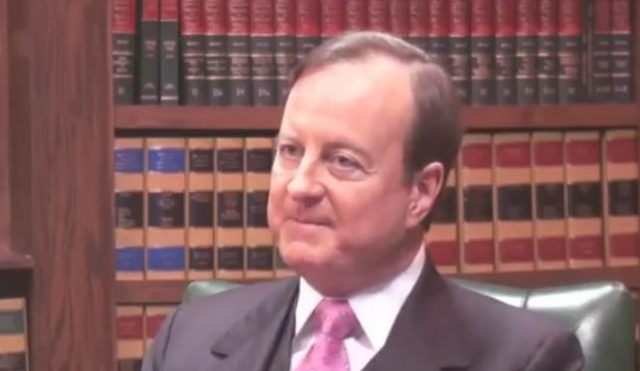 The first few weeks of the Trump administration have been riddled with controversy. Now, former Ohio Judge Mark Painter is calling for an end to Donald Trump's presidency less than a month after it began.
Painter, a Republican, wrote a scathing editorial for Cincinnati.com in which he discussed some of the highlights (or lowlights, as far as he's concerned) of Trump's brief time in office. A Twitter jab at Nordstrom over his daughter's clothing line, the Pentagon looking into renting space at Trump Tower, issues of conflicts of interests with his businesses, "illegal" orders, and insulting a "so-called judge" are some of the notable hallmarks of the administration that Painter mentions, shocked that Trump has gotten away with them.
"In any time except our post-factual era, no office holder, much less the president, could get away with any one of the dozens of dazzlingly illegal things Trump has already done," Painter, who served as a judge for 30 years, wrote. "They would forfeit office immediately."
Painter refers to Trump as, "The leader of the band of Mad Hatters occupying the White House." He calls the current presidency "dangerous" and says, "Trump must be impeached and removed with all haste." He calls on Ohio Congressman Steve Chabot to begin the process. Chabot was involved in initiating the impeachment of President Bill Clinton. "If you need help drafting those articles of impeachment, Steve, I am available," Painter offers.
Judge Painter claims that Trump doesn't know anything about the Constitution, separation of powers, or "[b]asic American values." He notes that while some hoped that after Trump's unorthodox approach to campaigning, he would "grow up" into the presidency, but laments that this hasn't happened. He expresses zero hope that Trump will improve with experience, and says that the only solution is to call for a premature end to his term in office. "This not-ready-for-prime-time show is too dangerous to continue."
Of course, in order for that to happen, there must be evidence that Trump committed some sort of offense that would warrant impeachment. Tweets and unpopular orders — even ones that may be found to be unconstitutional — don't count.
[Image via screengrab]
Have a tip we should know? [email protected]