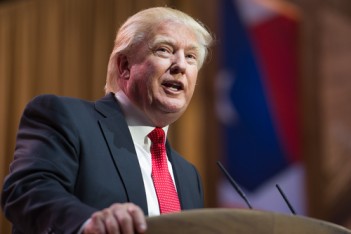 Donald Trump promised to release a list of judges that he would nominate for the Supreme Court, a move the GOP presidential frontrunner clearly hopes will go a long way in calming concerns voiced by some conservatives that feel he has sent mixed-signals on the issue in the past.
Trump first addressed the Supreme Court issue as he has in the past, highlighting the increased significance in the context of the 2016 election, noting the party that wins the White House will have the opportunity to shape the Supreme Court for a generation.
"It's not that you lose the presidency," Trump said. "You might have five Supreme Court justices to be picked over the next four years. … You could change the balance of the court very quickly, very easily," Trump said at the Palm Beach County Republican Party's annual Lincoln Day fundraiser at Mar-a-Lago Club on Sunday.
Then, after acknowledging the concerns of his critics, Trump promised to provide specifics, not only about the type of judge that he would appoint, but he promised to name names.
"I am going to give a list of either five or 10 judges that I will pick, 100 percent pick, that I will put in for nomination. Because some of the people that are against me say: 'We don't know if he's going to pick the right judge. Supposing he picks a liberal judge or supposing he picks a pro-choice judge,'" Trump told the group.
"I'm going to get a list of anywhere from 5 to 10 judges and those are going to be the judges that I am going to pick. It will be one of those judges. And I will guarantee it personally like we do in the world of business. … I will guarantee that those are going to be the first judges that I put up for nomination if I win.  And that should solve that problem."
Trump also told the group that his list would include judges "that everybody respects, likes and totally admires" — "great conservative judges, great intellects, the people you want."
Although Trump has not provided a timeline for the release of his list expect to see the names of appellate judges Diane Sykes and Bill Pryor on the short list.  At a debate last month, Trump named both Pryor and Sykes as two judges that he would consider nominating for the Supreme Court.
"We could have a Diane Sykes or a Bill Pryor, we have some fantastic people," Trump told the debate audience in February. Both judges are well-known conservatives serving on the federal bench.
[h/t Yahoo News; image via shutterstock]
Have a tip we should know? [email protected]