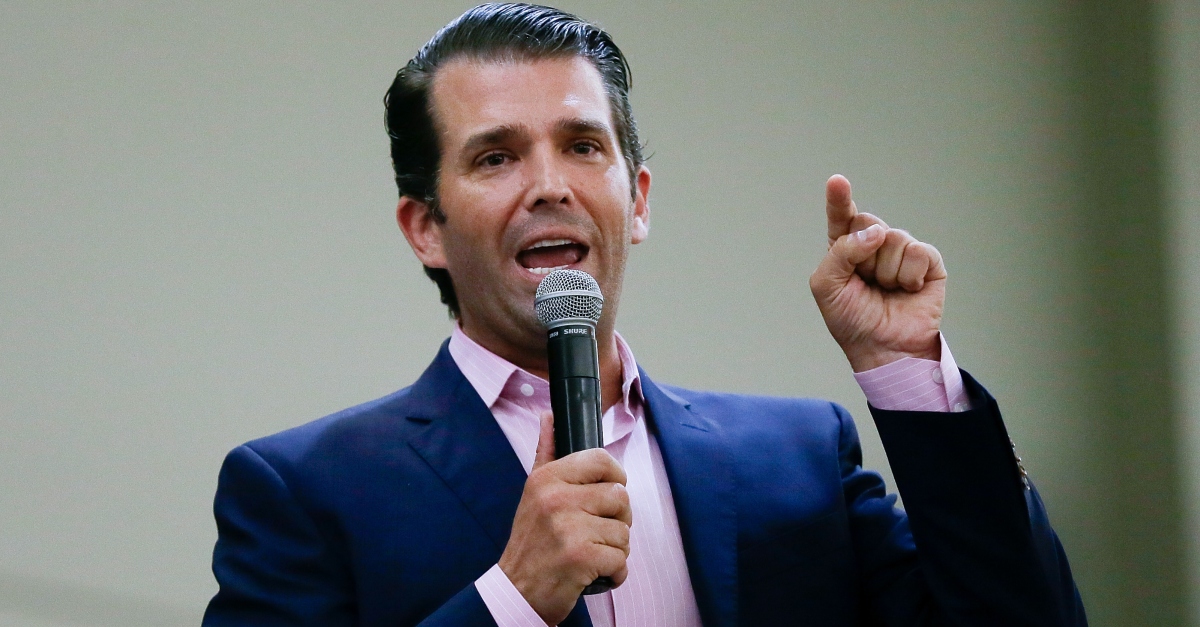 Fallout from Michael Cohen's plea deal with Special Counsel Robert Mueller could soon ensnare President Donald Trump's oldest son. A presidential pardon might be his only hope.
Donald Trump Jr. previously made several statements about a prospective Trump Tower deal in Moscow when questioned by the Senate Judiciary Committee in mid-May of this year. To hear Trump Jr. tell it at the time, this deal wasn't that big of one–and the younger Trump played absolutely no part.
Here's a non-exhaustive run-down of what Trump Jr. purported to know about Trump Tower Moscow.
1. Trump Jr. was asked whether he knew who the "counterparty" was in the potential Moscow deal. He replied, "I don't, no."
2. Trump Jr. was then pressed as to whether the counter-party was "somebody connected to [former mobster and Trump family business associate] Felix Sater." He replied, "I don't know if they're connected to Felix Sater or they knew Felix. He was involved as a broker. I don't know if he's a principal. I wasn't involved."
3. Trump Jr. was asked whether he had any involvement in the potential Moscow deal. He replied: "Like I said, I was peripherally aware of it, but most of my knowledge has been gained since as it relates to hearing about it over the last few weeks."
4. Trump Jr. was asked what he knew–if anything–about the potential Moscow deal. He replied: "Very little."
5. Trump Jr. was also asked whether he was aware of Cohen's attempts to contact a Kremlin representative before those attempts were reported on in the media. He replied, "No, I was not."
Far beyond the traditionally safe answer of "I don't recall," Donald Trump Jr. frequently stipulated an absolute lack of knowledge about said deal. Critics seized upon those answers almost immediately.
The Democratic Party hmm'd out loud about Trump Jr.'s answers and suggested that he may have given "false testimony" before Congress. Apropos of the consternation's source, however, this didn't really go anywhere.
Fast-forward to some very key details from Michael Cohen's guilty plea–and the concomitant criminal information.
Page 5 of the 10-page information notes:
[A]s late as approximately June 2016, Cohen and [another Trump associate] discussed efforts to obtain Russian governmental approval for the Moscow Project. Cohen discussed the status and progress of the Moscow Project with [Donald Trump] on more than the three occasions Cohen claimed to the [Senate Intelligence] Committee, and he briefed family members of [Donald Trump] within the [Trump Organization] about the project.
Experts are convinced that Trump Jr. was one such family member briefed by Cohen.
Former special counsel Ryan Goodman took note of the apparent discrepancy on Twitter and contrasted the "family members" language with Trump Jr.'s original answers.
What Donald Trump Jr told Congress about Moscow Tower deal

Note Michael Cohen plea: "briefed family members…within the Company about the project"

Don Jr to Senate:

Sater worked on deal "in 2015"
"I wasn't involved"
Were you aware Cohen reached out to Kremlin? "No, I was not" pic.twitter.com/ITyt6cc7dd

— Ryan Goodman (@rgoodlaw) November 29, 2018
Attorney Seth Abramson took things a bit further and anticipated that Trump Jr.'s only lifeline here was an eventual fatherly pardon:
"The only chance Donald Trump Jr. has to avoid charges of lying to Congress. .. is to cooperate," Abramson tweeted. "But he's not going to cooperate, because it's his dad and because he always knows he can get a pardon. So expect a Trump Jr. indictment."
Goodman quickly agreed with this prediction and extrapolated the import to other potential Mueller targets.
"Yep," he wrote. "And that's part of the message today from Robert Mueller to Donald Trump Jr and others We are more than willing to prosecute you for having lied to Congress about matters materially relevant to the Russia investigation."
[Image via Bob Levey_Getty Images for Left_Right TV]
Follow Colin Kalmbacher on Twitter: @colinkalmbacher
Have a tip we should know? [email protected]