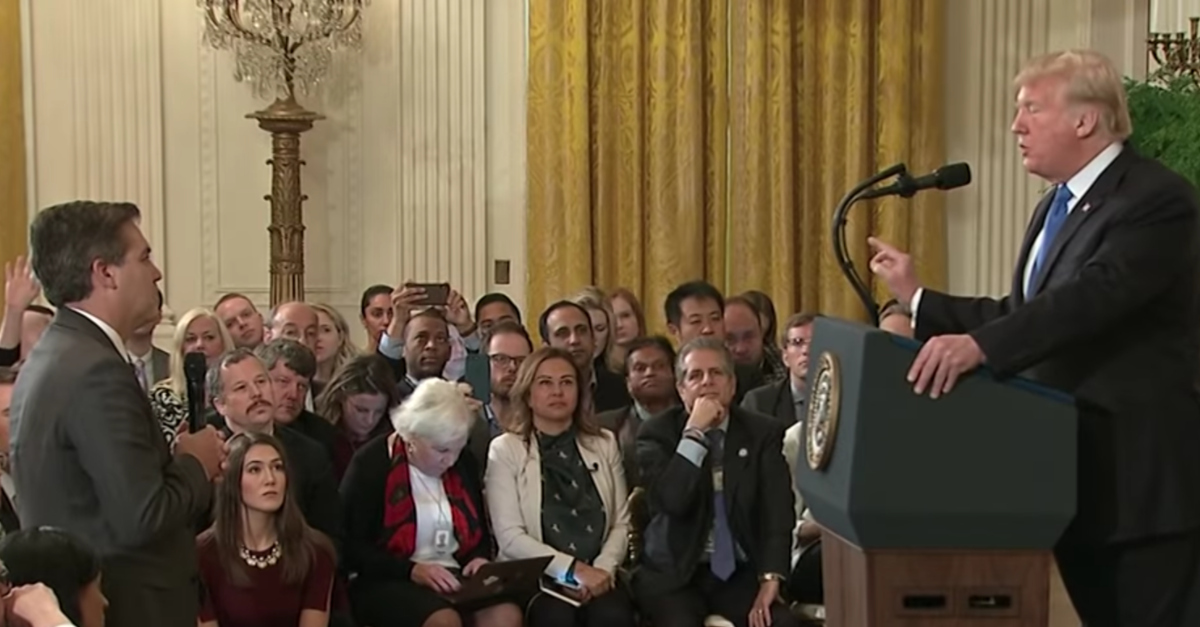 The U.S. Department of Justice (DOJ) filed a memorandum on Wednesday in response to CNN and Jim Acosta's motion for a temporary restraining order to reinstate Acosta's White House press access during their recently-filed lawsuit. The reporter and cable network claim that the decision to pull Acosta's so-called "hard pass" following a heated press conference last week violated his First and Fifth Amendment rights, as well as the Administrative Procedure Act.
In defense of Trump and White House officials, the DOJ denied that there was any wrongdoing on the part of the government, and that President Donald Trump has every right to decide that he does not want Acosta present for press events. Acosta refused to stop asking questions and give up the microphone during a press conference, after President Trump told him to stop. A White House employee also attempted to take the microphone from Acosta's hand, and he resisted.
Law&Crime reached out to CNN for comment regarding the government's defense of the decision.
One major point that the government made was that CNN as a network has not suffered any demonstrated harm here. While Acosta lost his privileges, the government claims that CNN has "more than 50 reporters" who still have hard passes. Additionally, CNN can still have Acosta report on White House matters, just not from inside the White House.
"[T]here is no First Amendment right of access to the White House," the DOJ's filing says.
The main case that CNN and Acosta cite in their lawsuit, Sherrill v. Knight, doesn't apply here, the DOJ argues. That case involved a reporter who was denied a hard pass due to the Secret Service's determination and did not receive any notice as to why. Here, it was the president's decision, and the White House did provide reasons, although those reasons did vary. At first, Acosta's physical contact with a White House employee was cited. Then, they focused on his disruptive behavior in refusing to stop talking and give up the microphone after the president told him his time was up. The DOJ argues that the president has "broad authority" when it comes to deciding who has access to the White House.
Additionally, the Sherrill case states that a hard pass can be denied for a compelling government interest, and the DOJ claims that the White House's interesting running "fair and orderly press conferences" meets that standard. The government asserts that Acosta's behavior took time away from other reporters, and cites Press Secretary Sarah Huckabee Sanders, who noted that this was not the first time Acosta "inappropriately refused to yield to other reporters."
[Image via CNN screengrab]
Have a tip we should know? [email protected]