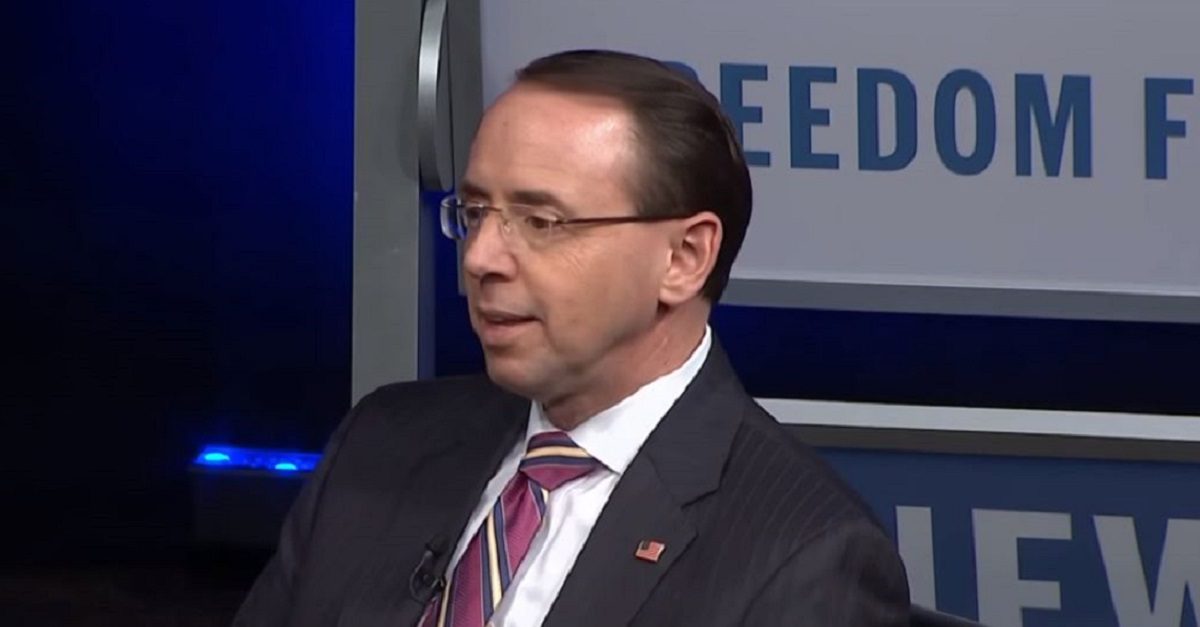 The U.S. Department of Justice may reveal portions of the memo from Deputy Attorney General Rod Rosenstein to Special Counsel Robert Mueller that detailed the scope of Mueller's authority in his investigation of Trump campaign ties to Russian interference with the 2016 election. A heavily redacted version of the memo has already been made public, but conservative watchdog group Judicial Watch is seeking more information in a Freedom of Information Act lawsuit.
After Judicial Watch first made their request for records regarding the scope of the Mueller probe, the Justice Department refused to acknowledge whether any such memo existed. Since then, Mueller's office released the redacted version as part of a case against former Trump campaign manager Paul Manafort. At a hearing, Judge T.S. Ellis III requested to see an unredacted version of the document. With the acknowledgment of the memo's existence, the DOJ finally addressed it in relation to Judicial Watch's case, according to a press release from the group.
"In light of the Special Counsel's public acknowledgement of the August 2 memo, the government has been assessing whether the acknowledgment alters its prior response to Request No. 3 [for documents describing the scope of Mueller's authority] of the FOIA request at issue in this suit," the DOJ said to Judicial Watch after the hearing. They went on to say that they are "processing the August 2 memorandum to determine if it can release additional portions that have not already been filed publicly, but needs some additional time to complete these tasks."
It remains to be seen how much–if any–of the previously redacted part of the memo will be disclosed, but Judicial Watch president Tom Fitton was glad to see the Justice Department taking action to look into it.
"We are pleased, especially after Judge Ellis's hearing, that our lawsuit is causing the Justice Department to rethink its cover-up of the 'scope memo' for Mueller," Fitton said in a statement. "Judicial Watch has never before seen this level of secrecy and cover-up surrounding the operation of a special or independent counsel."
The Rosenstein memo was first disclosed after Manafort claimed that Mueller exceeded the scope of his authority when he indicted Manafort on charges that had nothing to do with the Trump campaign, and were based on alleged activities from years earlier. Mueller revealed that the original appointment order was left vague to protect sensitive information, and that the memo was used to address the specifics of the investigation. Unredacted portions of the memo showed that Manafort's business activities in Ukraine were indeed within the scope of the investigation. The memo has still been criticized, as it was dated August 2, 2017, days after federal authorities raided Manafort's home.
[Image via MSNBC screengrab]
Have a tip we should know? [email protected]