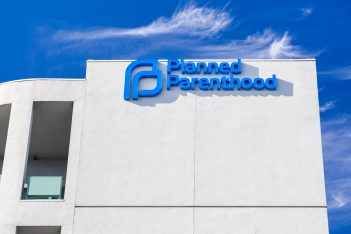 California is on a roll. Governor Jerry Brown signed Assembly Bill 1671 on Friday, making it illegal to distribute secret, undercover recordings involving health care conversations.
The Los Angeles Times reports the new law was passed in response to the controversial videos released in 2015 by the Center for Medical Progress that showed Planned Parenthood employees in a less than flattering light.  For example, some of the videos purportedly showed top executives of Planned Parenthood haggling over the price of aborted fetal tissues in violation of federal law.
Planned Parenthood has repeatedly alleged the videos were manipulated and they point out authorities have never charged them with any wrongdoing over the videos.
Nevertheless, they apparently never want to find themselves in such an awkward situation again and California lawmakers were seemingly more than happy to oblige.
"Planned Parenthood, a sponsor of AB 1671, argued that the new law is necessary in the wake of the controversial videos taped by David Daleiden and other anti-abortion activists that purport to show Planned Parenthood employees illegally trafficking in fetal tissue," the article states.
The existing law in California already makes it a crime, punishable by up to three-years in prison, to illegally record certain confidential conversations.  Evidently, that does not go far enough for Planned Parenthood, so they pushed lawmakers to ensure AB 1671 was written to make the distribution of illegally obtained conversations with a health care provider a separate crime.
The first draft of the bill pushed by Planned Parenthood provided anyone who published or distributed an illegally recorded conversation with a health care provider could be prosecuted — even if they had nothing to do with the original recording.  This alarmed civil libertarians and media outlets, so the bill was slightly amended to clarify that only those involved in the obtaining the underlying illegal recording could be punished for distribution.
Despite the changes, critics, including the LA Times editorial board, remain concerned about the impact of the new law.
"But make no mistake, this measure would heap more criminal and civil penalties on making a secret recording — an act that's already prohibited by state law, even when done in the public interest — simply to satisfy an interest group popular among Sacramento Democrats," the editorial board recently wrote.
If the statement released in response to the signing of AB 1671 is any indication, Planned Parenthood does not appear to be particularly worried about such concerns.  In fact, they seem rather satisfied with the new law.
"Gov. Brown sent a clear message to anti-abortion extremists that you cannot break the law in California or you will be held accountable," Planned Parenthood Affiliates of California President Kathy Kneer told the newspaper on Friday.
[image Planned Parenthood Los Angeles via shutterstock]
Have a tip we should know? [email protected]