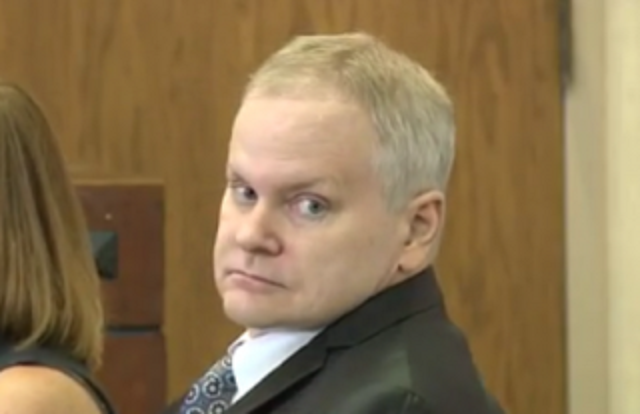 FRANKFORT, Ky. (AP) — An eastern Kentucky disability lawyer scheduled to be sentenced next month for defrauding the government of nearly $600 million has disappeared, the FBI said.
Eric Conn pleaded guilty in March to stealing from the federal government and bribing a judge. He was scheduled to be sentenced next month and had been ordered to pay the government tens of millions of dollars.
But Saturday, the FBI said Conn removed his electronic monitoring device, violating the conditions of his bond and prompting the U.S. District Court to issue a warrant for his arrest. David Habich, general counsel for the FBI's Louisville office, said Conn's "whereabouts are currently unknown."
A call to Conn's lawyer was not returned.
Conn started his law practice in a trailer in 1993 and built it into one of the most lucrative disability law firms in the country. He created a persona for himself as "Mr. Social Security," fueled by outlandish TV commercials and small-scale replicas of the Statute of Liberty and the Lincoln Memorial at his office in rural eastern Kentucky.
But Conn's empire crumbled when federal investigators uncovered he had been bribing a doctor and a judge to approve disability claims based on fake medical evidence. As part of his plea deal in March, he agreed to pay the federal government $5.7 million and to reimburse Social Security $46 million. A federal judge ordered Conn to pay $12 million in damages and $19 million in penalties to the government and two former Social Security employees who tried to expose the scheme. And Conn is also facing a liability judgment from a class action lawsuit brought by his former clients, with a hearing scheduled for later this month to determine the damages.
"It was totally predictable that he would flee," said attorney Ned Pillersdorf, who represents Conn's former clients and said Conn's frequent world traveling was brought up in court to assess whether he was a flight risk. "I was always shocked that, when he was arrested, he was actually allowed out on bond. And there has been a betting pool going on in Prestonsburg on not if he would flee, but when."
The scandal prompted the federal government to review the eligibility of about 1,500 people receiving benefits. Pillersdorf said about 800 of those people lost their benefits.
"The anger toward him is overwhelming," Pillersdorf said.
[Image via WSAZ screengrab]
Have a tip we should know? [email protected]