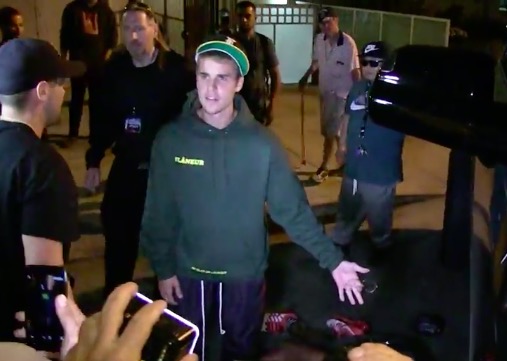 A video making its way around the internet shows pop superstar and occasional heartthrob Justin Bieber accidentally knocking over a photographer with his pickup truck last night in Beverly Hills as he left a church service.
By all accounts, the Biebs performed admirably: the 23-year-old singer stuck around and cooperated with police once they arrived, according to the Los Angeles Times. In the end, no citations were issued and the 57-year-old photographer was treated for minor injuries at a nearby hospital.
The banged-up paparazzo later issued a video of his own, thanking the Canadian wunderkind for being "compassionate". But in the hands of many a prosecutor, the law has no cause for compassion. So, what laws, if any, did Bieber break last night?
California has no laws on the books regarding the specific crime of "vehicular battery" and since the contact was apparently accidental, the basic charge of battery ("willful and unlawful use of force or violence upon the person of another") would be inapposite in any event.
Does that mean he's in the free and clear? Probably, yes. But, hypothetically there is one charge that could see Bieber back in stir: reckless driving.
California Vehicle Code section 23103(a) states:
"A person who drives a vehicle upon a highway in willful or wanton disregard for the safety of persons or property is guilty of reckless driving."
Furthermore, Section 23104(a) of the California Vehicle Code provides that:
"…whenever reckless driving of a vehicle proximately causes bodily injury to a person other than the driver, the person driving the vehicle shall, upon conviction thereof, be punished by imprisonment in the county jail for not less than 30 days nor more than six months or by a fine of not less than two hundred twenty dollars ($220) nor more than one thousand dollars ($1,000), or by both the fine and imprisonment."
If the Los Angeles County District Attorney wanted to pursue such a charge on either count above, she very well could because the video of Bieber knocking someone over with his pick-up truck on a street (according to the California Penal Code a highway includes a street) could arguably be construed as evidence of Bieber's "willful or wanton disregard" for the safety of the photographers–and their cameras–who were swarmed around his car.
Prosecution on such charges, however, would be highly unlikely because Bieber's love tap was accidental and he stopped afterwards to offer the victim aid and comfort. Additionally, even though Justin Bieber isn't exactly a beloved entertainer to most folks these days, the DA's office would probably be subject to massive amounts of criticism for concentrating on such a minor legal violation.
What else in the book could land the Canadian in hot water? Though exceedingly unlikely–perhaps even more so than any hypothetical reckless driving charges–there's always the classic California staple: road rage.
According to California Penal Code  Section 245(a)(1):
"Any person who commits an assault upon the person of another with a deadly weapon or instrument other than a firearm shall be punished by imprisonment in the state prison for two, three, or four years, or in a county jail for not exceeding one year, or by a fine not exceeding ten thousand dollars ($10,000), or by both the fine and imprisonment."
In this event, the "deadly weapon" would be Bieber's big black truck, but this analysis short-circuits for the same reasons mentioned above. It was an accident, the injuries were minor, he stayed to render aid and comfort–and the application of this law would be patently ridiculous under the circumstances.
If, however, District Attorney Jackie Lacey wanted to risk career suicide, additional penalties are outlined in California Vehicle Code Section 13210. So, instead of imprisonment and hefty fines, Bieber could theoretically find himself sans driver's license if convicted.
Again, this is all very unlikely. And why prosecute the guy for an accident? He already said "Sorry"–and not a moment too late.
[image via screengrab of video from TMZ]
Follow Colin Kalmbacher on Twitter: @colinkalmbacher
Have a tip we should know? [email protected]