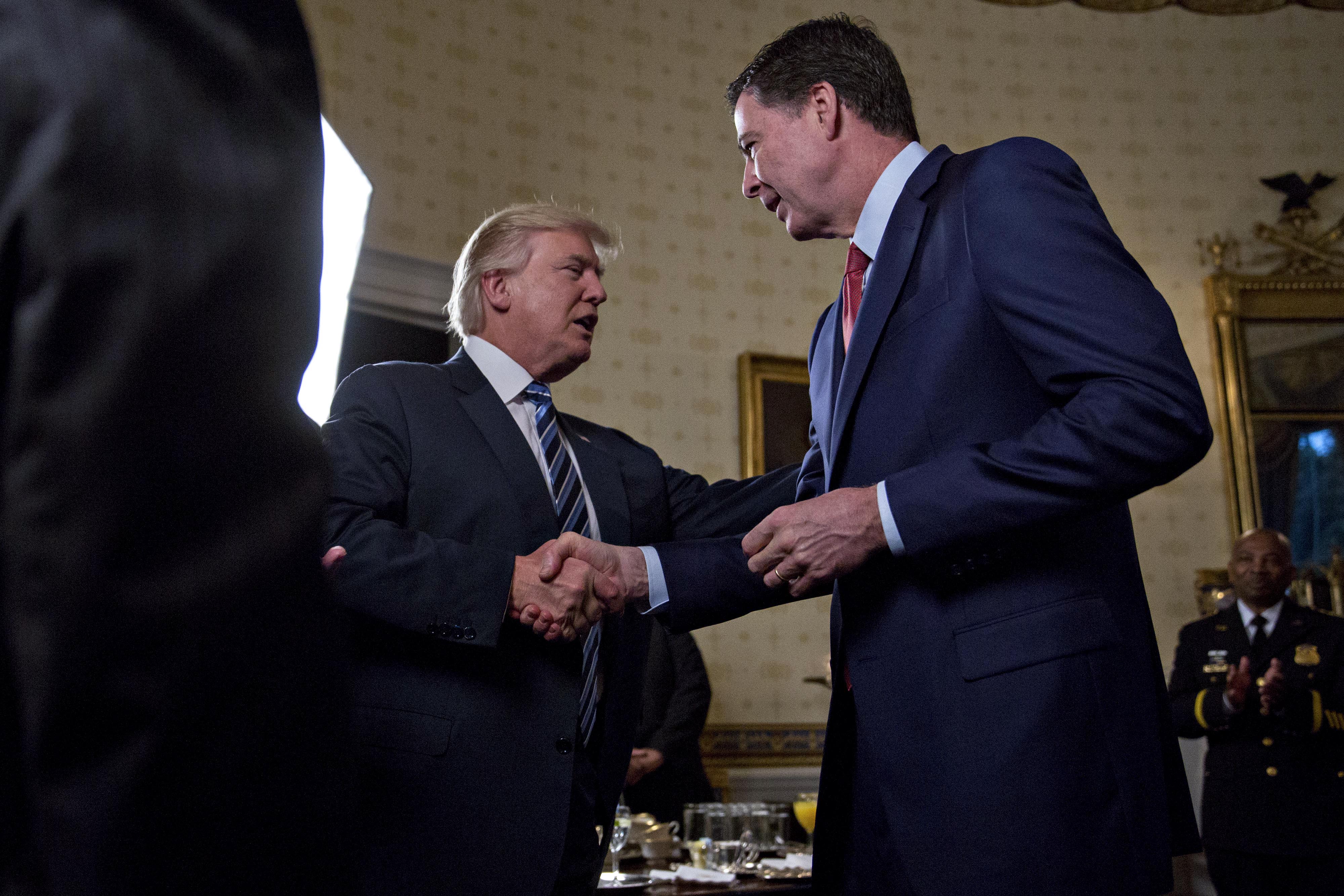 Did President Donald Trump demand loyalty from James Comey after being tipped off to the existence of an ongoing FBI investigation by George Papadopoulos? At least one prominent Democrat seems to think so.
Representative Eric Swalwell (D-CA) tweeted the following dot-connecting exercise into the ether early Sunday night:
#Comey interview resurrects Jan. 27, 2017 dinner invite @realDonaldTrump extended out of blue to the Director. That same day, @GeorgePapa19 is contacted for first time by FBI. Did George tell someone on Trump team, setting in motion the Trump loyalty ask?

— Rep. Eric Swalwell (@RepSwalwell) April 16, 2018
On January 27, 2017, Trump reportedly made his bid for Comey's continued support. During a one-on-one dinner in the White House green room, the president allegedly said, "I need loyalty. I expect loyalty."
Comey discussed this less-than-pleasant presidential dining experience multiple times during his interview with ABC's George Stephanopoulos on Sunday night. Here's the exchange:
GEORGE STEPHANOPOULOS: What did you think was going on?

JAMES COMEY: Something that made me uncomfortable and my best intuition at that point was it's part of an effort to make me part of the team, to make me "amica nostra." And that it made me deeply uncomfortable. And so I just waited. There was no– there was no saying no at this point.

And the president showed up and had me sit down and it turned out just to be the two of us and that the purpose of the meeting, the dinner was for him to extract from him a promise of loyalty. That instinct was right, it was to make me a friend of ours.
In the ever-expanding Russiagate drama, however, the date of the infamous Trump-Comey dinner is special for another reason. January 27, 2017 is also the day FBI agents made first contact with "coffee boy" and "foreign policy advisor" George Papadopoulos.
During his "completely voluntary" interview that day, Papadopoulos admittedly made at least three false statements to the various FBI agents assigned to his case. According to the Papadopoulos guilty plea and statement of the offense, those false statements concerned, "the extent, timing, and nature of his communications with the Professor, the Female Russian National, and the Russian MFA Connection."
Recall: Papadopoulos says that he met a professor with "dirt" on Hillary Clinton as well as a female Russian national "connected" to the Russian Ministry of Foreign Affairs who could arrange a foreign policy-themed trip for the Trump 2016 Campaign. Over and over, Papadopoulos allegedly claims these two contacts (and any information culled from them) occurred prior to his working for the Trump campaign. Those statements, of course, turn out to be false.
Comey refused to pledge his continued and unwavering support. He was fired on May 9, 2017.
[image via Andrew Harrer-Pool/Getty Images]
Follow Colin Kalmbacher on Twitter: @colinkalmbacher
Have a tip we should know? [email protected]