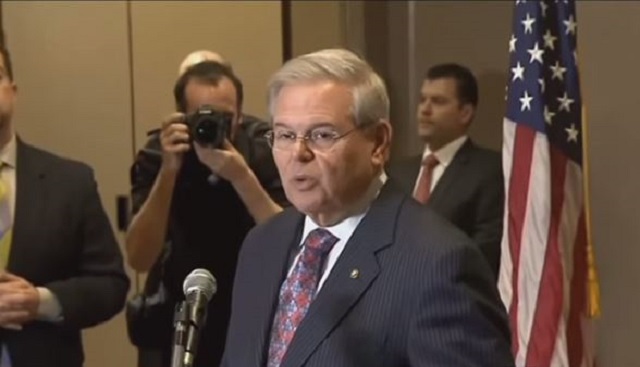 NEWARK, N.J. (AP) — How a jury tackles the question of "why?" and not "what?" could hold the key to U.S. Sen. Bob Menendez's bribery trial.
The battle lines were drawn during opening statements on Wednesday when defense attorney Abbe Lowell told jurors he would stipulate — not contest, in essence — to all of the acts the government says the New Jersey Democrat took. Those included taking luxury vacations courtesy of Florida ophthalmologist Salomon Melgen, whom he'd known since the early 1990s, and meeting and corresponding with government officials on issues that could affect Melgen's business interests in Florida and in the Dominican Republic.
Menendez can't be found guilty, Lowell added, unless jurors conclude his intent was corrupt and that there was a bribery arrangement between the two men. The evidence won't show that, he said.
"This case isn't about what happened, it's about why it happened," Lowell said.
The government painted a different picture in its opening statement. Justice Department attorney Peter Koski described Menendez pressuring government officials to help Melgen with securing visas for his foreign girlfriends and intervening in a lucrative port security contract in the Dominican Republic and a multimillion-dollar Medicare dispute.
"He went to bat when Dr. Melgen asked, and Dr. Melgen asked frequently," said Koski. "There's no friendship exception to bribery. There's no friendship exception to breaking the law."
Among the gifts prosecutors say Melgen gave Menendez were flights on Melgen's private jet, vacations at Melgen's private villa in the Dominican Republic frequented by celebrities like Beyonce and Jay Z, and a three-night stay at a luxury Paris hotel valued at nearly $5,000. Melgen also contributed more than $700,000 to Menendez's legal defense fund and to entities that supported Menendez's campaigns.
Lowell countered that the two men have been friends since the early 1990s and "acting out of friendship is not a crime."
Menendez and Melgen were indicted in 2015 and face multiple fraud and bribery charges in a case that could threaten Menendez's political career and potentially alter the makeup of a deeply divided U.S. Senate if he's convicted.
If he is expelled or steps down before Gov. Chris Christie leaves office Jan. 16, the Republican would pick Menendez's successor. A Democrat has a large polling and financial advantage in November's election to replace Christie.
Menendez said before entering the courthouse on Wednesday: "Not once have I dishonored my public office."
Menendez has kept up a busy public appearance schedule while under indictment, and that didn't change Wednesday. After court adjourned, Menendez attended a rally of about 100 people outside a federal immigration building next to the courthouse to protest Republican President Donald Trump's decision to end deportation protection for young immigrants living in the country illegally.
"We can keep the dream alive," he told the crowd through a megaphone. "You are not alone."
Melgen's attorney began his opening statement near the close of court on Wednesday and is scheduled to resume Thursday morning.
This article was written by David Porter of the AP.
Have a tip we should know? [email protected]