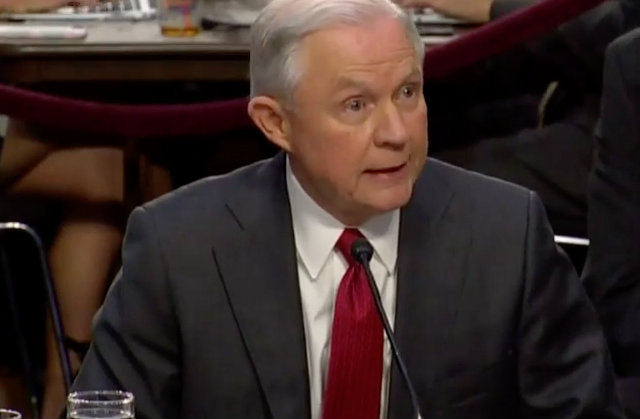 On Tuesday, Attorney General Jeff Sessions denied that his recusal from the Russia investigation precluded him recommending the firing of FBI Director James Comey. It was well within his authority, he said. But is that true?
The question was raised during the AG's tense hearing before the Senate Intelligence Committee. U.S. officials have said since December that the Kremlin interfered in the 2016 election so President Donald Trump could win.
Sessions, one of Trump's biggest supporters during the campaign, has had to fend off allegations of wrongdoing. He recused himself in March from involvement in the FBI's Russia investigation after he failed to disclose two conversations he had with Russian ambassador Sergey Kislyak. It has also been reported that Congress is probing an alleged third meeting.
So, in the midst of all this, Sessions insists he could still properly recommend Comey's firing. That doesn't convince Professor Deborah Rhode, who teaches legal ethics at Stanford Law School. She thought the Attorney General shouldn't have been involved in the FBI Director's termination.
"I find it deeply problematic given that Trump's stated reason for firing Comey was the Russia investigation, a matter on which Sessions appropriately recused himself," Rhode told LawNewz.com. Sessions' involvement raised important questions on his judgement and ethics, she said. "I can't think of a comparable situation in which someone who recused engaged in a similar act."
Sessions has cover, however. When he recommended Comey's firing to Trump, he cited the letter by Deputy Attorney General Rod Rosenstein. The FBI Director was ostensibly fired over his handling of the investigation into Hillary Clinton's emails. No mention was made of the Russia investigation. Trump only brought it up in a interview a few days later.
This isn't good enough for Rhode, however, because Sessions can't prove he was unaware of the president's reason for firing Comey.
"How he going to show that?" she said, pointing out that the attorney general cited executive privilege. He simply won't discuss his conversations with Trump.
Rhode argued that Sessions' recusal should have extended to Comey's firing.
"The Attorney General should be above reproach in all ethical issues," she said.
George Washington University Law Professor Jonathan Turley had different thoughts on the matter, though. Turley told LawNewz.com that Sessions' recusal was specific to a particular investigation, and that it did not bar him from Justice Department personnel matters. Sessions never made any indication that his discussions with the President about Comey or his recommendation to fire him had anything to do with Russia, which puts him in the clear. Despite what President Trump has said about Russia since Comey's firing, there is no evidence that the investigation had anything to do with Sessions' decisions or discussions on the matter.
Comey testified before the Senate Intelligence Committee on Thursday. He declined to talk about whether Sessions' involvement in his firing violated the recusal.
"That's a question I can't answer," he said. "I think it's a reasonable question. If — if, as the President said, I was fired because of the Russia investigation, why was the Attorney General involved in that chain? I don't know, and so I don't have an answer for the question."
Ronn Blitzer contributed to this report.
Note: This article has been updated with Professor Turley's analysis.
[Screengrab via Fox Business]
Have a tip we should know? [email protected]