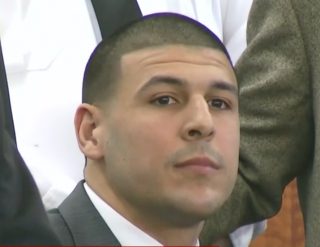 Last week, a jury found former New England Patriots player Aaron Hernandez not guilty of murder after a lengthy trial, but he was already serving a life sentence after a separate murder conviction for the death of Odin Lloyd. Now that Hernandez is dead from an apparent suicide, however, the state of Massachusetts will no longer deem him guilty of that crime.
It's all because of the doctrine of "abatement ab initio." The rule, which is followed in Massachusetts but not all states, says that if a person dies after conviction, but before exhausting all appeals, the case is treated as if the trial never happened. Hernandez was still going through the appeals process for the murder when he died. Martin W. Healy, legal counsel for the Massachusetts Bar Association, told The Boston Globe that due to this rule, "Aaron Hernandez will go to his death an innocent man."
Healy said that abatement ab initio is rarely used, and is followed by some of the older states, a remnant from English common law.
"Unfortunately, in the Odin Lloyd matter, for the family, there won't be any real closure," Healy said, at least when it comes to the criminal justice system. However, Healy notes that this won't change how people will look back on Hernandez. "In the court of public opinion, Hernandez … will be judged accordingly," he said.
Have a tip we should know? [email protected]