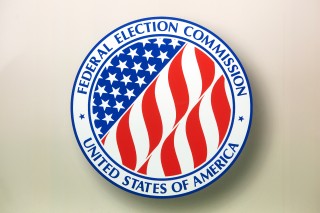 The Federal Elections Commission (FEC) sent a letter to the Donald Trump campaign on Monday after discovering over 1,000 errors in its most recent financial filing. This has caused much alarm on social media, but experts from the non partisan Campaign Legal Center told LawNewz.com that this type of FEC letter isn't entirely unusual — in fact, Hillary Clinton got one herself just last month!
According to the its letter, the FEC's findings allege the Trump campaign violated several campaign finance laws by accepting over 1,000 impermissible donations, totaling approximately $1.3 million. The majority of the alleged violations stem from accepting donations from individuals in amounts that exceed federal donation limits.
The FEC ordered the Trump to repay all of the impermissible donations and to provide evidence to the commission that verifies it complied with the order. The Trump campaign has until December 27, 2016 to respond to the letter, or it may face additional enforcement action.
Despite the clear accusations of illegality on the part of the Trump campaign, Brendan Fisher of the Campaign Legal Center told LawNewz.com the letter is actually rather routine. Fisher explained that it is not surprising for a major national campaign to have some contributions in excess of the legal limits that accidentally slip by, especially considering the campaign is processing thousands of contributions.
In fact, he said Hillary Clinton's campaign received a similar letter from the FEC just last month. Her complaint included a 11 page list of impermissible donation.
Barrack Obama also received similar letters from the FEC.  His campaign also received one of the largest fines in FEC history, $375,000, after an FEC audit of his 2008 campaign found they refused to disclose millions of dollars in contributions from nearly 2,000 donors.
To remedy Trump's situation, Fischer said "many [of the excess contributions] can still be reattributed (for example, to one's spouse) or re-designated to bring them within the limits, otherwise the excess contributions have to be refunded."
Once the corrections are made, Trump should not be expected to face any serious consequences as a result of the FEC allegations.
[image via shutterstock]
Have a tip we should know? [email protected]