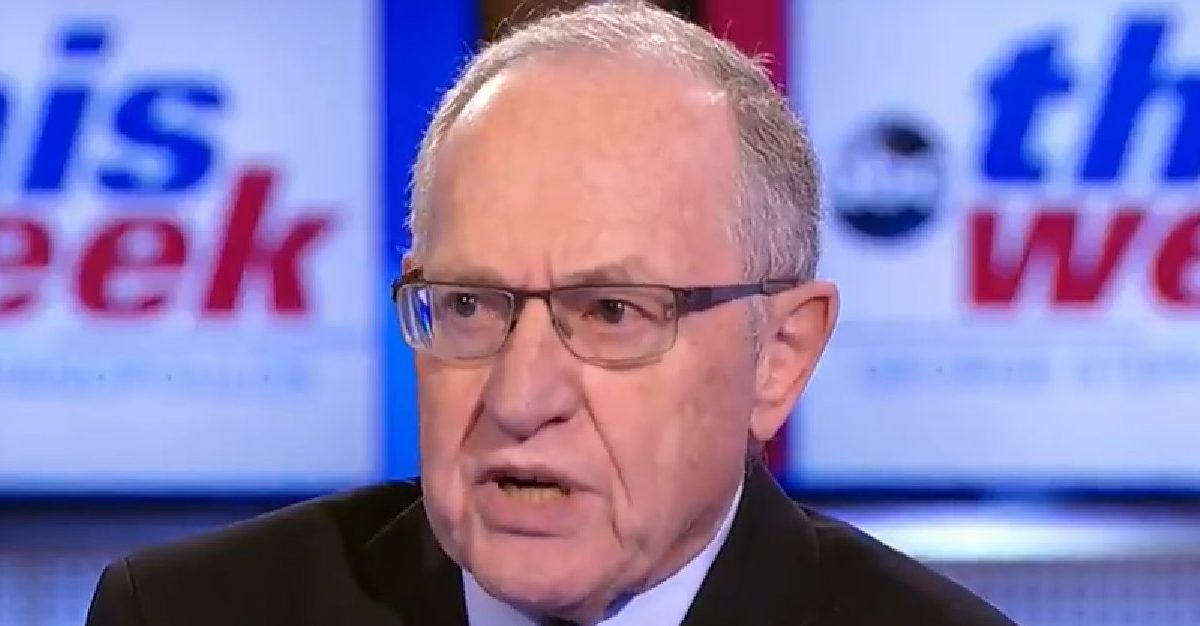 Harvard Law Professor Emeritus Alan Dershowitz continued his criticism of Julie Swetnick's allegations against Supreme Court nominee Brett Kavanaugh Wednesday morning. This time, he went after Swetnick's attorney Michael Avenatti. In a tweet, Dershowitz focused on how Swetnick's NBC News interview that aired earlier in the week undermined her written declaration, and therefore Avenatti should withdraw the sworn statement.
.@MichaelAvenatti may now have an ethical obligation to withdraw Swetnick's affidavit, since she contradicted material portions of it in a tv interview.

— Alan Dershowitz (@AlanDersh) October 3, 2018
Dershowitz said that Avenatti "may now have an ethical obligation to withdraw Swetnick's affidavit," considering what seemed to be contradictions made in the televised interview.
Avenatti told Law&Crime that Dershowitz's comment is "ludicrous," and that the professor was simply trying to stay relevant. He maintained that Swetnick did not contradict herself.
Dershowitz did not go into any further details about this supposed ethical obligation, but the American Bar Association's model rules do address this issue.
Model Rule 3.3 addresses clients who make false statements, and a comment on the rule states:
In such situations, the advocate's proper course is to remonstrate with the client confidentially, advise the client of the lawyer's duty of candor to the tribunal and seek the client's cooperation with respect to the withdrawal or correction of the false statements or evidence.
While this appears to address the situation as Dershowitz sees it (since he believes Swetnick was not necessarily truthful in her written statement), it's not quite that simple, even if Swetnick did lie. An American Bar Association publication from 2015 notes that what matters is "whether the lawyer truly knows that the client is lying [emphasis in original]." Even if Swetnick did lie, and even if Avenatti now has doubts as to whether her initial statement was true, that may not be enough to trigger an ethical obligation.
While the California Bar's ethics rules are not the same as the Model Rules, California Rule of Professional Conduct 5-200 does prohibit false statements from attorneys. If Avenatti knowingly filed a false statement from a client, this could possibly trigger that rule.
Dershowitz's accusation against Avenatti comes after he already claimed Tuesday night on Hannity that Swetnick may have committed perjury.
"She swore under oath, subject to perjury and felony, that certain things happened," he said. "She then said they didn't happen. And if she changed her view, any good prosecutor, if the evidence shows that she made it up under whole cloth, should be able to prosecute her and sentence her to prison."
Note: This article has been updated with a response from Michael Avenatti.
[Image via ABC screengrab]
Have a tip we should know? [email protected]