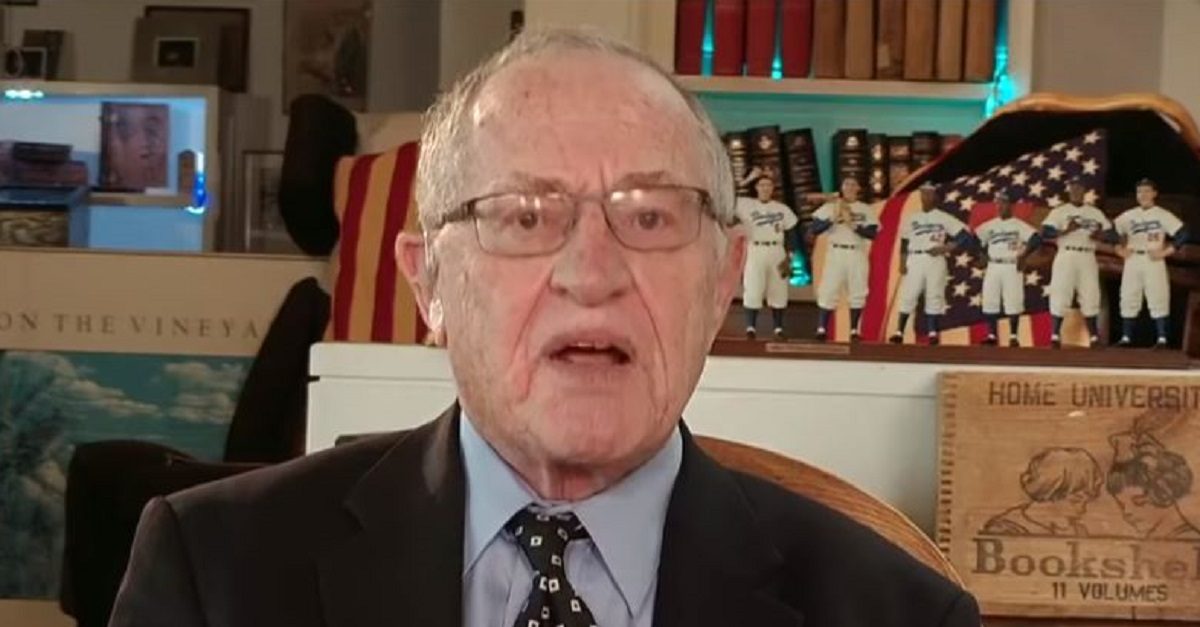 Alan Dershowitz has garnered a reputation of late for making arguments that things aren't as bad for President Donald Trump as others might have you believe, but Thursday morning seemed to be different. While Trump downplayed the significance of White House Counsel Don McGahn leaving his post after having spoken to Special Counsel Robert Mueller's team, Dershowitz told NPR that Trump "should be worried" about what McGahn said.
McGahn had reportedly spoken to Mueller's office for 30 hours, and discussed matters including those related to whether Trump obstructed justice.
"I think [McGahn's departure] has everything to do with the fact that he met with Mueller," the Harvard Law professor emeritus said.
"Even if McGahn didn't deliberately incriminate the president, he's probably filled some gaps, he's probably provided them with some information, a meeting here or there that they didn't know about that now they know about. And the idea of getting advice from a lawyer who may be sitting opposite you in a courtroom seems to be that the writing was on the wall as soon it was disclosed that he had such an extensive meeting with Mueller."
On Wednesday, Trump basically said McGahn's cooperation with Mueller wasn't a big deal, and that he approved it. He had nothing but good things to say about McGahn.
Later in the interview, Dershowitz was asked if Trump was lying when he said he wasn't worried about McGahn.
"Well he should be worried," Dershowitz said. "I don't know whether he is worried. … When your White House Counsel sits down for 30 hours, you ought to be worried."
Dershowitz said the next big issue is who will replace McGahn.
"It's whether or not Trump nominates a distinguished independent … somebody with undoubted objective credentials, or whether he tries to pick a crony who will be lawyer to him rather than the office of the presidency."
Dershowitz said there's a decent chance that Trump would indeed pick a crony.
"I think the president will be tempted to pick a loyalist," he said, saying he anticipates Trump to ultimately do the same with the Attorney General position.
Dershowitz warned that this would not necessarily be a good idea.
"A really good lawyer has to be prepared to tell his client … what he doesn't want to hear."
What does Trump not want to hear?
"Don't fire Mueller."
Listen to the entire segment below:
[Image via Fox News screengrab]
Have a tip we should know? [email protected]