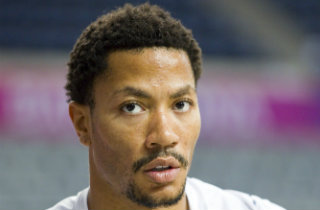 While the ongoing rape trial of NBA player Derrick Rose is a civil case and not a criminal matter, the Los Angeles Police Department has been investigating him and the case for a while now. That fact hasn't been publicized as much as you would expect, but that's about to change, because one of the two cops on the case, 44 year-old Nadine Hernandez, was found dead of a gunshot wound on Tuesday, the Los Angeles Times reports. Lieutenant Steve Dean of the Whittier Police Department told the Times that the matter of death is still being investigated.
Hernandez's role in the case has not yet been publicly confirmed by the LAPD, but "LAPD sources who were not authorized to speak publicly about the case" told the Times that she was assigned to the Rose case. The detective was assigned to the Robbery-Homicide Division Special Assault Section, which investigated high profile sexual assault allegations. Hernandez had previously been identified as being involved with the case in a letter she wrote supporting the motion of Rose's accuser to stay anonymous and continue to be officially identified as "Jane Doe" at trial.
While LAPD officers responded to the initial call, Whittier Police are handling the investigation into Hernandez's death.
[Photo: Shutterstock]
Have a tip we should know? [email protected]