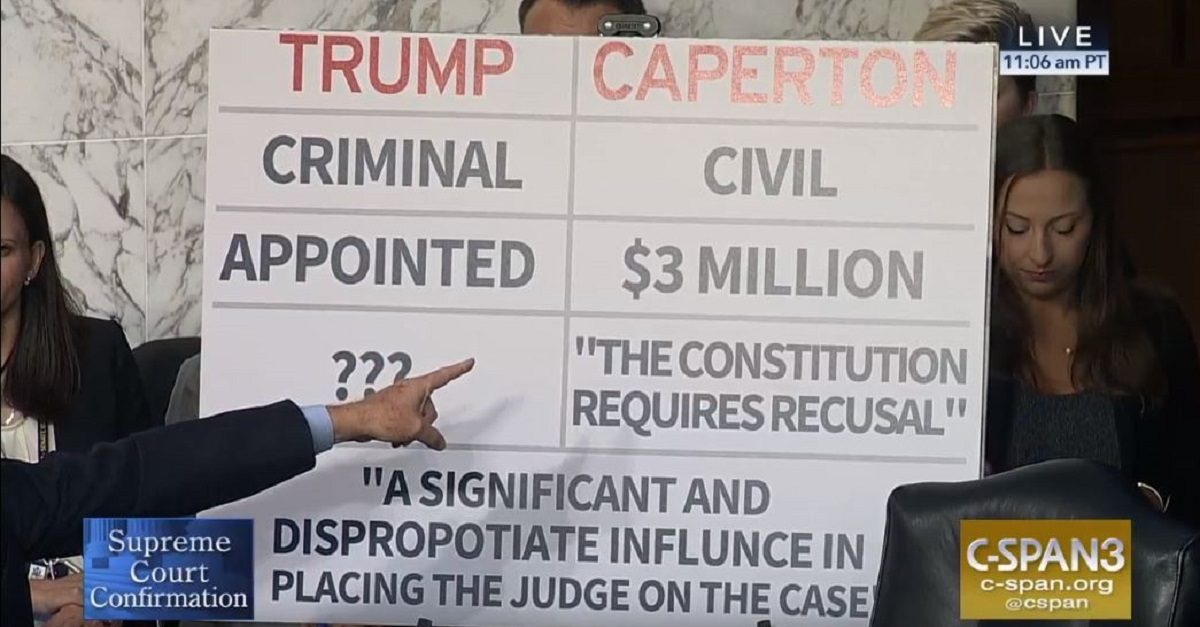 Sen. Sheldon Whitehouse (D-Rhode Island) wanted to make a grand display when he challenged Supreme Court nominee Brett Kavanaugh on the issue of recusal.
Whitehouse brought up a West Virginia case where it was said that a judge should not sit in a case where he had received $3 million in support from one of the parties. The idea was whether the litigant had a significant and disproportionate influence over the judge, and the Supreme Court said that the Constitution required the judge to recuse himself.
Whitehouse then went on to compare this to what might happen if a case involving President Donald Trump were to end up before the Supreme Court, and whether Trump would have a disproportionate influence on justices he appointed.
Those in attendance may have been distracted from the substance of Whitehouse's message, however, because his oversized placard had multiple giant, bold-type spelling errors.
A SIGNIFICANT AND DISPROPOTIATE INFLUNCE IN PLACING THE JUDGE ON THE CASE
Two horribly misspelled words in one phrase? Now that's talent. Whitehouse at least caught one of the mistakes as he read from the sign.
"Oops, we didn't spell influence right," Whitehouse confessed.
As for Whitehouse's line of questioning, he didn't get very far after that.
He asked Kavanaugh if being appointed by Trump would count as disproportionate influence in a criminal case before the Supreme Court. Kavanaugh simply stated it would be improper to make a decision on a potential future case, a common response from Supreme Court nominees.
[Image via C-SPAN3 screengrab]
Have a tip we should know? [email protected]