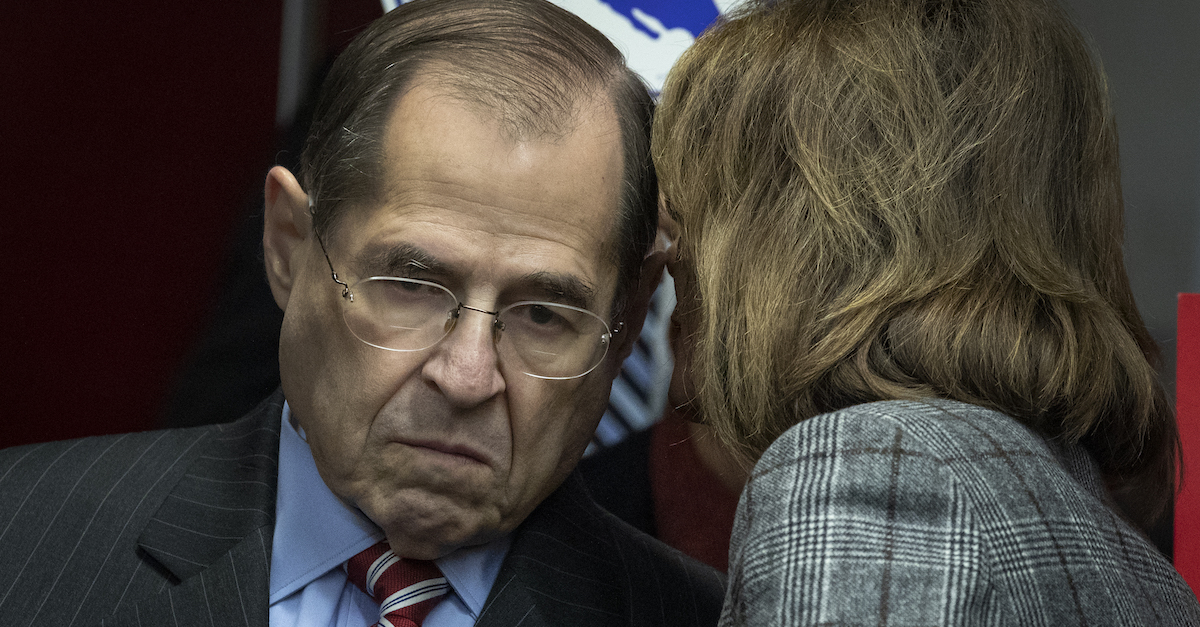 Special Counsel Robert Mueller's report apparently left an open question regarding the issue of whether President Donald Trump obstructed justice. That questions could very well be answered by House Democrats, should they choose to impeach. Rep. Nancy Pelosi (D-CA) said no to that for now, but what about her colleague House Judiciary Chairman Rep. Jerrold Nadler (D-NY)? If Nadler moves in the impeachment direction, which he has already hinted at, he's going to have explain how this is consistent with his past views about obstruction related to President Bill Clinton.
Attorney General William Barr's summary of Robert Mueller's report said that "While this report does not conclude that" President Donald Trump "committed a crime, it also does not exonerate him" of obstruction of justice. Although we don't know what the report says, this isn't exactly a ringing endorsement.
If Nadler seeks to take advantage, you should know that a fawning New York Times profile from 1999 once discussed Nadler's impeachment beliefs. The language Nadler was using was reminiscent of something. Except Nadler was praised for calling impeachment of Clinton a "partisan coup d'etat."
Nadler "unleashed a flurry of catcalls from conservatives," as he endeared himself to "scads of New York voters." Nadler did something else that rung a bell, namely criticizing the prosecutor in charge of the case, Independent Counsel Ken Starr.
"We have seen some really nasty conduct [from Starr's office]," Nadler said.  "To what degree was that nasty conduct because Starr is a jerk, to what extent is it because there was a failure of supervision by the Attorney General, and to what extent was it because of the inherent failure of the law?"
Then came an enduring statement from Nadler on his impeachment and obstruction standards. From the Times:
Mr. Nadler said he was not convinced that Mr. Clinton committed perjury or obstructed justice, but that even if the President did, the offenses would not be impeachable.

"An impeachable offense is an abuse of Presidential power designed to or with the effect of undermining the structure or function of government, or undermining constitutional liberties," he told several hundred people at the recent town hall meeting at the Fashion Institute of Technology.
In 2019, Nadler took issue with Trump's response to the initial Mueller news and pledged to take action.
"In light of the very concerning discrepancies and final decision making at the Justice Department following the Special Counsel report, where Mueller did not exonerate the President, we will be calling Attorney General Barr in to testify before @HouseJudiciary in the near future," Nadler said Sunday.
Trump claimed the report amounted to "complete and total exoneration." Nadler responded, "This report does not amount to a so-called total exoneration," even if it did clear him with regards to the issue of Russian collusion. He also said he plans on calling Barr to testify.
[Image via Drew Angerer/Getty Images]
Have a tip we should know? [email protected]