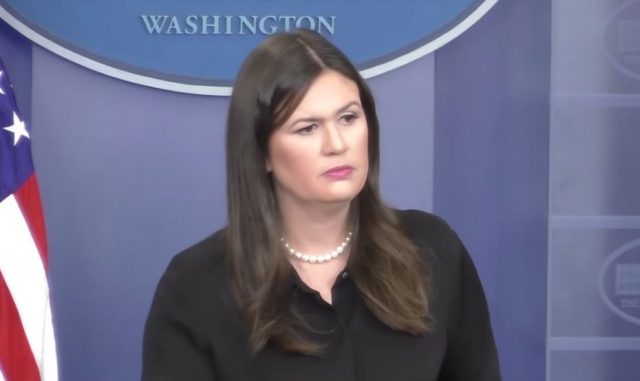 On Wednesday, Sarah Huckabee Sanders weighed in on the controversy surrounding ESPN host Jemele Hill, who had tweeted that President Donald Trump is a white supremacist, but now the Democratic Coalition says the White House Press Secretary went too far, possibly breaking federal law.
Sanders responded to Hill's comment by saying, "That's one of the more outrageous comments that anyone could make and certainly something that I think is a fireable offense by ESPN." But a federal statute says it's a crime for an executive branch employee to influence a private entity's employment decisions " solely on the basis of partisan political affiliation." The Democratic Coalition believes that Sanders' statement fits the bill, so they filed an ethics complaint against her with the Office of Government Ethics (OGE).
"When Sarah Huckabee Sanders called for Jemele Hill to be fired by ESPN, she crossed the line and put herself in dubious legal territory," Jon Cooper, Chairman of the Democratic Coalition, said in a statement. "Even in Donald Trump's America, there's still such a thing as freedom of speech. For Sanders to publicly call for the dismissal of a Trump critic is bizarre and disturbing, to say the least. If anyone is to be fired, it should be her."
Of course, as LawNewz has noted in the past, there's not much that OGE can do when it comes to White House employees. They can recommend disciplinary action, but ultimately, it's the President's decision whether or not to carry it out.
LawNewz has reached out to the White House and OGE for comment.
[Image via screengrab]
Have a tip we should know? [email protected]