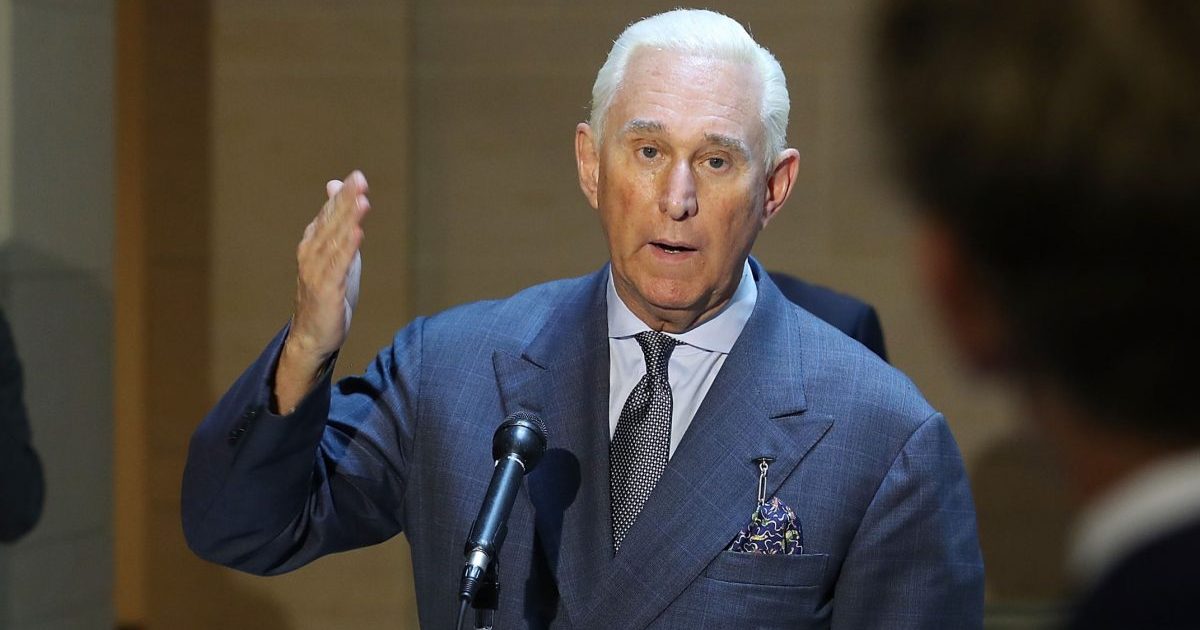 The Jerome Corsi and Roger Stone saga continues, and this time there are emails.
Corsi, a right-wing author and conspiracy theorist with ties to Stone, has been in the news this week for supposedly rejected a plea deal related to a perjury charge issued by special counsel Robert Mueller. On Monday, Corsi said he would rather go to prison for the rest of his life than sign a "lie." Later on in the day, he said in no uncertain terms "I have REJECTED Mueller's plea deal," and promptly started fundraising for a his legal defense.
Now it's Tuesday and NBC News has obtained draft court papers with emails allegedly sent from Corsi to Stone regarding WikiLeaks and emails dumps of hacked DNC emails. Corsi has claimed that the perjury charge stemmed from an email he didn't remember sending Roger Stone an email that said "go see [Julian] Assange."
But the draft documents tell a more involved story. For one, they say that Mueller was not opposed to a probation sentence if Corsi pleaded guilty to lying to investigators. Corsi has declined to plead guilty saying that he wasn't going to sign a lie. Then there are the emails.
One email Corsi allegedly sent Stone on Aug. 2, 2016 said, "Word is friend in embassy plans 2 more dumps. One shortly after I'm back. 2nd in Oct. Impact planned to be very damaging."
Another email from July of the same year, this one from Stone to Corsi, said of WikiLeaks founder Julian Assange, "Get to (Assange) [a]t Ecuadorian Embassy in London and get the pending (WikiLeaks) emails." Mueller alleges that Corsi lied about his attempt to contact WikiLeaks (Corsi said that he didn't and that he advised Stone not to pursue this or else risk being investigated). The special counsel said that Corsi actually told conservative author Ted Malloch about the situation and then told sent Stone an email eight days later saying that WikiLeaks was going to drop emails damaging to Hillary Clinton in Oct. 2016, the month before the election.
Mueller further alleges that Corsi went on to delete all emails from his computer sent before Oct. 11, 2016. Corsi has previously claimed that he just figured out somehow that WikiLeaks had the goods.
There was one more remarkable email sent on Nov. 30, 2017.
Stone allegedly emailed to ask Corsi to write about Randy Credico, the radio host associate of Stone's who, like Corsi, was subpoenaed to testify before a Mueller grand jury.
Corsi apparently tried to pump the brakes on a Stone attempt to get out ahead of the Credico situation.
"Are you sure you want to make something out of this now?" Corsi said, according to the documents. "Why not wait to see what (Credico) does? You may be defending yourself too much — raising new questions that will fuel new inquiries. This may be a time to say less, not more."
Stone, mind you, reportedly sought a blanket pardon for Assange and sent a text in early January "to an associate" that there was a "very real" possibility that could happen.
"Don't fuck it up," Stone said. "Something very big about to go down." The associate mentioned was Randy Credico, the guy who reportedly served as the "intermediary" between WikiLeaks and Stone.
"How did I ever the hell get involved in this mess?" Credico said before testifying in September. "A nice guy like me. What's a nice guy like me doing in a place like this?"
Corsi, for his part, continues to claim that he never had direct or indirect contact with WikiLeaks and that he just figured this WikiLeaks dump out.
"Why did I think they were coming out in October? Because I said to myself if I had these emails I'd use them as the October surprise," he told NBC. "And why did I think they would come out serially, drip by drip? Because Assange is very strategic. He understands the news cycle."
He's also arguing that Mueller should not be prosecuting him for misremembering certain emails. As Law&Crime has pointed out before, it doesn't appear to be the case that this is the only reason Mueller has Corsi on the hook. If the information in these draft documents occurred as alleged — behavior like deleting incriminating emails, for instance — that goes against the idea that this is a mere "perjury trap" prosecution.
Corsi has characterized the situation in those terms, however.
[Imave via Mark Wilson/Getty Images]
Have a tip we should know? [email protected]