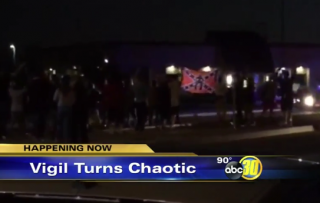 On Saturday, Dylan Noble, a 19-year-old white male was shot and killed by police during a traffic stop in Fresno, California that is currently under investigation. Sunday night, community members took to the streets for a vigil that escalated into a protest, KFSN reported.
Demonstrators stood in the middle of the road for 30 minutes as police tried to get them to clear out of the way of traffic. According to the New York Daily News, some people chanted, "F— the police!" At least one protester held a Confederate flag and threw bottles, and the Daily News reported that another held a sign that said "White Lives Matter," playing on the slogan used after black individuals were killed by police.
Noble was reportedly pulled over for driving erratically. Police told KFSN that he would not show both of his hands to officers at the same time, and reached towards his waistband before running towards them.  One officer shot him. Noble later died while in surgery for his injuries.
Police instructed the group to move to the sidewalk, and the vigil eventually quieted down peacefully.
Have a tip we should know? [email protected]