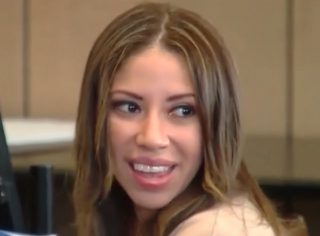 Dalia Dippolito, the 34-year old woman arrested and charged with the murder-for-hire scheme against her husband of just six months, now seeks to be released from house arrest. Prosecutors believe Dippolito hired an undercover police officer to act as hitman to kill her husband. The murder-for-hire plot was allegedly caught on video during a police undercover sting.
Dippolito's most recent trial ended in a hung jury with three jurors voting guilty and three voting not guilty.  After the ruling, State Attorney Dave Aronberg vowed to re-try the case.  That trial is expected to begin this Spring.
Dippolito was initially convicted of solicitation to commit first-degree murder and sentenced to 20 years in prison during her first trial in 2011.  That conviction was eventually overturned on appeal.
Since her arrest, Dippolito has been on house arrest.  However, on Monday, she filed a motion requesting to be released from her seven-year house arrest. On Friday, the court held a hearing to determine the merits of her request.
In the hearing, her defense attorney said that Dippolito has been on a most restrictive house arrest for that extensive time period and that she has been unable take part in the various activities a parent should be allowed to with her child.  The defense further asserted that Dippolito isn't a flight risk or danger to community and therefore should be freed from house arrest. However, the prosecution argued that being a mother would make her more likely to flee, as she wouldn't want to be away from her son should she have to serve any prison time.
Judge Glenn Kelley, who proceeded over the hearing, ultimately denied the request to release Dippolito from house arrest but noted that he will consider modifications.
The defense also indicated that it will move to amend its motion for change of venue in regards to the upcoming re-trial. Judge Kelly stated that the options for change of venue would most likely be Jacksonville, Tampa or Orlando when the trial is set to begin in the Spring.
Have a tip we should know? [email protected]