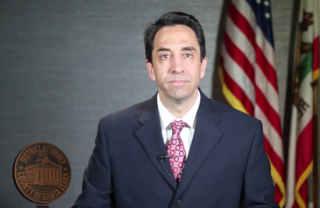 On Wednesday, Santa Clara County District Attorney Jeff Rosen announced that he and State Assembly Members are cosponsoring proposed legislation that would require stricter penalties against people who sexually assault intoxicated or unconscious victims. The plan is to keep such offenders from being eligible for probation, so that they are required to serve prison sentences.
"We need to change the law to protect the next Emily Doe from the next Brock Turner," Rosen said, referring to the former Stanford swimmer who was convicted of sexually assaulting an unconscious woman, but was sentenced to just six months in county jail, to be followed by three years of probation. With good behavior, Turner will likely spend only three months behind bars. "Let's give the next campus sexual assault victim no reason to fear that her attacker will end up walking around free after spending less time in jail than it takes to finish a single college semester."
The proposal, directly inspired by the Turner case, seeks to add sexual assault felonies committed against intoxicated and unconscious victims to an already existing list of offenses that have a "mandatory denial of probation." Sexual assault involving physical force are on that list, but current law does not issue the same requirement for when force isn't needed because the victim is unable to fight back. As it stands now, those situations, like Turners, have a "presumptive ineligibility of probation" for those who are convicted, but judges may use discretion if they choose to give probation. This proposal would eliminate that distinction.
Have a tip we should know? [email protected]