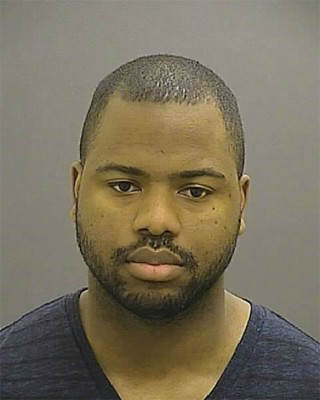 The prosecution's key witness in the Freddie Gray trial will not be forced to testify against three of his fellow officers. Judge Barry G. Water's decision is a major blow to prosecutors because it means the trials for those three officers will move forward.  But—Porter is not completely off the hook from being forced to testify. (He really doesn't want to , because he is also facing separate charges himself after a jury deadlocked in December).
Porter is also waiting on a Maryland appeals court to decide whether he will be forced to testify against two OTHER colleagues, van driver Caesar Goodson Jr. and Sgt. Alicia White. Porter's attorneys say he can't be a witness because it would violate his fifth Amendment right not to incriminate himself since he still faces charges.   It's the reason Goodson's trial, scheduled to start last week, has been postponed.
Last week, prosecutors said they also wanted to use Porter's testimony against three  other officers in the case — Edward Nero, Garrett Miller, and Brian Rice — because they say it proves that Gray was not properly buckled up. Attorneys for the officers say this move was just an attempt by the prosecution to get all 6 trials postponed — so they can stick to their preferred trial schedule.
Freddie Gray died after an April 12, 2015 arrest. He was placed in a police van for transport, and he allegedly sustained fatal injuries during the ride (exactly how he got hurt is disputed). Porter was the officer driving the van. He faces a charge for second-degree "depraved heart" murder. This carries a potential 30-year sentence.
<h/t Washington Post>
Have a tip we should know? [email protected]
Rachel Stockman - President / On Air Host