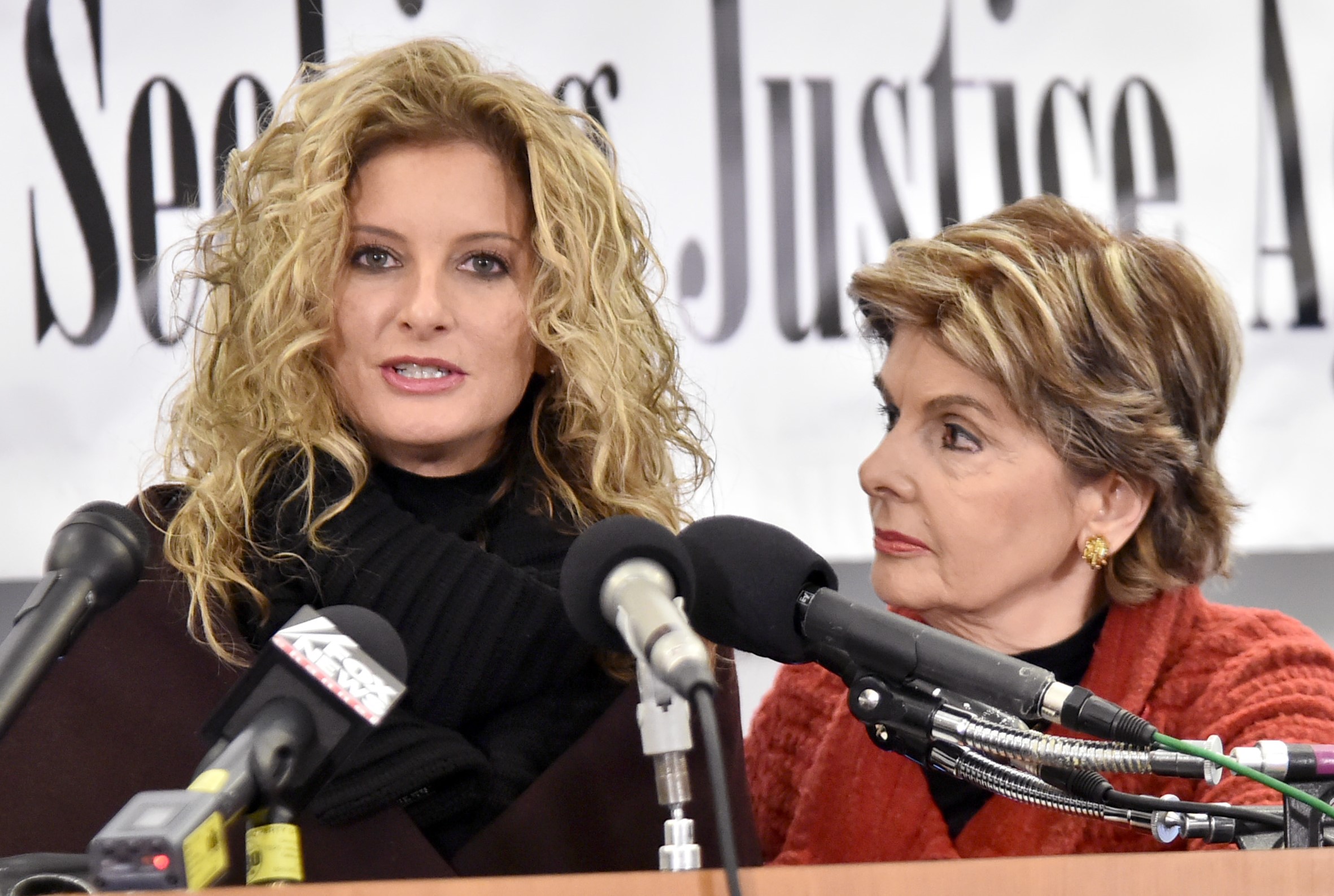 Being president doesn't immunize Donald Trump from a defamation claim filed by Summer Zervos, the former Apprentice contestant who claims Trump defamed her, a New York trial judge ruled Tuesday. The judge's rationale is rooted in the lawsuit Paula Jones filed against former president Bill Clinton, which made it to the U.S. Supreme Court in 1997.
"No one is above the law," New York judge Jennifer G. Schecter said at the outset of an analysis which refused to dismiss the Zervos lawsuit and refused to put the case on hold until the end of Trump's presidency. The judge's ruling is not a final decision on the merits.
Zervos was a contestant on "The Apprentice" in 2005. She stayed in touch with Trump and in 2016 claimed Trump groped her and pressed his private parts against hers back in 2007. Trump said she was lying. She sued for defamation. In response, Trump argued that presidential immunity barred Zervos from suing.
The judge disagreed by pointing to Clinton v. Jones, which held that a sitting president can be sued for "unofficial acts" in federal court. The judge ruled that Jones extended to state court matters such as this one which would not result in a "state intrusion into federal government operations." Quoting Jones, the judge ruled that "even quite burdensome" lawsuits against a sitting president could move forward:
"Immunities are grounded in the nature of the function performed, not the identity of the actor who performed it."

[ . . . ]

"Nothing in the Supremacy Clause of the United States Constitution even suggests that the President cannot be called to account before a state court for wrongful conduct that bears no relationship to any federal executive responsibility. Significantly, when unofficial conduct is at issue, there is no risk that a state will improperly encroach upon powers given to the federal government by interfering with the manner in which the President performs federal functions."
The Paula Jones case involved a civil rights action and a state-law defamation claim filed by Jones against former president Bill Clinton. That case was heard in federal court. Judge Schecter noted that the Paula Jones case "left open the question of whether concerns of federalism and comity compel a different conclusion for suits brought in state court," but ultimately ruled that the distinction between state and federal court was not material in the Zervos case for the reasons stated above.
Judge Schecter's decision recounted the allegations against Trump. Because Trump moved to dismiss the case, the facts had to be viewed in a light most favorable to Zervos at this point in the litigation:
[Zervos] met with [Trump] at his New York office. He allegedly kissed her twice on the lips, making her 'uncomfortable, nervous and embarrassed.' The next time she saw [Trump] was after he called her and asked her to meet him at the Beverly Hills Hotel for dinner at a restaurant. When [Zervos] arrived, she was escorted to [Trump's] bungalow and waited for him in the living-room area. After 15 minutes, [Trump] emerged from his bedroom, kissed Ms. Zervos 'open-mouthed' and pulled her toward him. He asked her to sit next to him, 'grabbed her shoulder, again kissing her very aggressively, and placed his hand on her breast.' After [Zervos] pulled back and walked away, [Trump] took her hand and led her into the bedroom. When [Zervos] walked out, he turned her around and suggested that they 'lay down and watch some telly telly.' He embraced her and [Zervos] pushed him away, telling him to 'get real.' He then repeated plaintiff's words back to her lasciviously and 'began to press his genitals against her, trying to kiss her again.

After [Zervos] told [Trump] that she had come to see him for dinner, [Trump] 'paced around the room and seemed angry.' The two had dinner, which abruptly ended when [Trump] stated that he needed to go to bed and told [Zervos] to meet him the next day at his golf course. [Zervos] immediately went to discuss what had happened with her father and to get his advice. She decided to ahead with the meeting.

The following day, [Zervos] had limited interaction with [Trump] who introduced her to the general manager of the golf course. Later that week, the manager offered [Zervos] a job at half the salary that she had been seeking. [Zervos] called [Trump] and told him that she 'was upset, because it felt like she was being penalized for not sleeping with him.'
Zervos continued to seek employment from Trump in 2009 and 2010, the judge's decision notes.
Zervos came forward with her accusations against Trump in 2016, after the now-infamous Access Hollywood tape became public. Zervos said she spoke out because it "was ethically the right thing to do, so that the public could evaluate Mr. Trump fully as a candidate for president." The day Zervos came forward, Trump responded via his campaign Web site:
"To be clear, I never met her at a hotel or greeted her inappropriately a decade ago. That is not who I am as a person and it is not how I've conducted my life.
Later, at a campaign rally, Trump said:
These allegations are 100% false.  They are made up, they never happened. It's not hard to find a small handful of people willing to make false smears for personal fame, who knows, maybe for financial reasons, political purposes, or for the simple reason they want to stop our movement. They want to stop our campaign. Very simple. These claims defy reason, truth, logic, common sense. They're made without supporting witnesses. No witnesses. Hey, you know, 28 years ago, 10 years ago, 14 years ago, 12 years ago. Not me. Believe me. Not me. Not me.
Judge Schecter's decision recounts other Trump comments which called alleged affairs "fabricated," a "hoax," "totally made-up nonsense," "events that never happened," "lies," and "terrible." Trump also is quoted as saying Hillary Clinton "got these people to step forward" and that the women making the claims were out for "their ten minutes of fame."
This post began as a breaking news report. It has since been significantly updated.
(Photo by Mike Coppola/Getty Images)
Have a tip we should know? [email protected]
Aaron Keller - Deputy Editor-in-Chief