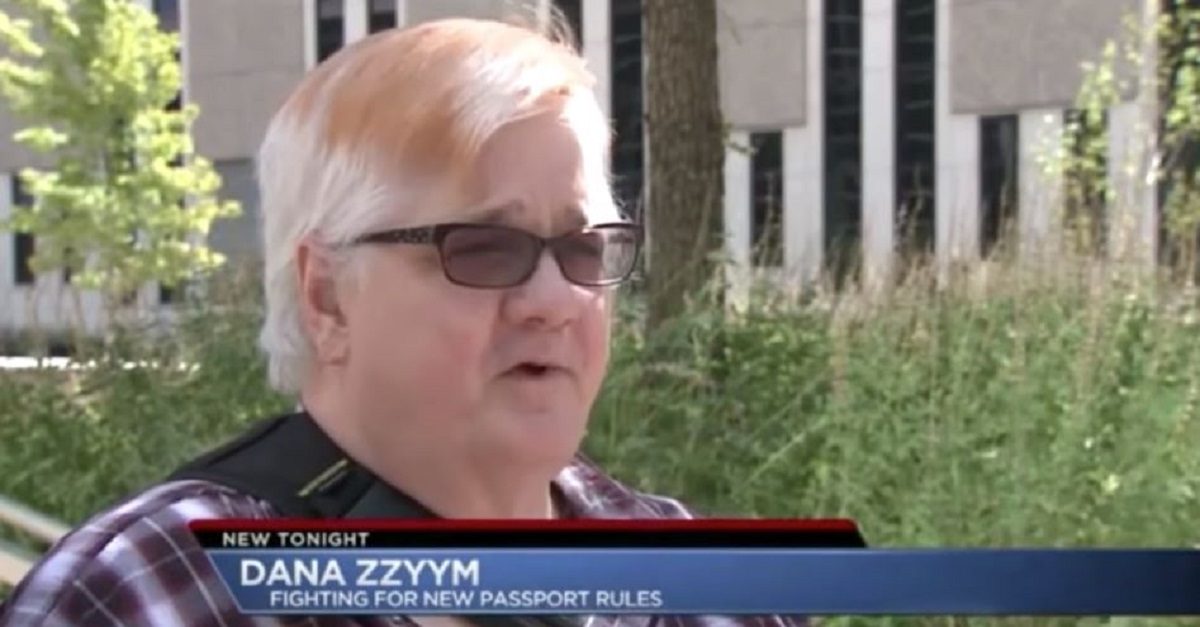 A federal judge blasted the U.S. State Department for the second time over the department's repeated refusal to grant a passport to a U.S. Navy veteran because they would not check the boxes marked "male" or "female" on the application. Dana Zzyym of Colorado identifies as "intersex," and wrote this on the application, while leaving the standard gender boxes blank and including an accompanying letter with an explanation.
The case first began in 2015, and in 2016 U.S. District Judge  R. Brooke Jackson ruled in Zzyym's favor, telling the State Department to reconsider the application. The Department ostensibly did so, but in 2017 reached the same conclusion, denying Zzyym's application again. The case went before Judge Jackson again, and this time he issued a more definitive ruling.
The judge quoted Zzyym's definition of "intersex" as "an umbrella term used to describe a wide range of natural bodily variations" for people "born with sex characteristics that do not fit typical binary notions of bodies designated 'male' or 'female,' visible or otherwise. According to court documents, Zzyym's birth certificate, did not initially have a sex marked on it, but was later changed to say male, as Zzyym had surgeries done as a child to reflect this. Zzyym was born with the name Brian Orin Whitney, but changed it to Dana Alix Zzyym after returning from Navy service in Beirut and the Persian Gulf in 1995. In 2012, Zzyym received an amended birth certificate which listed their sex as "unknown." [Editor's note: Zzyym's preferred pronoun is "they."] Zzyym has stated that marking "male" or "female" would be a lie, and passport applications say false statements come with a penalty of perjury.
The State Department apparently didn't care about Zzyym's personal history, and held firm in its determination that Zzyym's passport application did not conform with their gender policy. Judge Jackson ruled that the policy is "arbitrary and capricious" under the Administrative Procedure Act, and that the State Department's decision to deny Zzyym's application due to the gender issue was "in excess of the Department's statutory authority."
"It is undisputed that in every other respect Dana is qualified to receive a passport," Judge Jackson noted, mentioning in his decision that "at least four U.S. states and territories now issue identification cards with a third gender option," and that the State Department was aware of this when they reconsidered Zzyym's application.
Zzyym was represented by LGBT rights group Lambda Legal, whose senior attorney Paul D. Castillo lauded the decision.
"It is well past time for Dana Zzyym and other non-binary citizens of this country to be recognized and respected for who they are, to live openly and authentically, and to be able simply to travel freely about the world," Castillo said.
Zzyym Order by Law&Crime on Scribd
[Image via Fox31 Denver screengrab]
Have a tip we should know? [email protected]