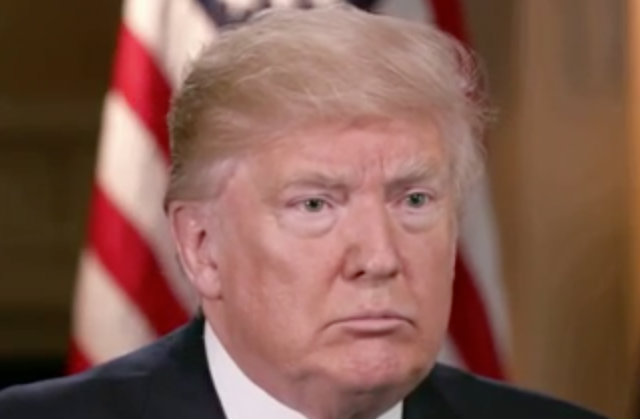 President Donald Trump whipped this tweet out early Friday morning.
James Comey better hope that there are no "tapes" of our conversations before he starts leaking to the press!

— Donald J. Trump (@realDonaldTrump) May 12, 2017
He seemed to imply that there are recordings of former FBI Director James Comey talking to him about the Russia investigation. So we here at LawNewz.com wanted to know whether such recording would have even be legal. On the face of it, yes, assuming that Trump is behind the taping, or at least consented to it.
Let's discuss the narrative background first, then dig into the law.
This tweet comes after Trump fired Comey late Tuesday afternoon, sparking all sorts of reporting on the timing, and his motivation. POTUS initially claimed that he fired the FBI Director over how he handled the Hillary Clinton email investigation in the closing days of the 2016 presidential election.
"While I greatly appreciate you informing me, on three separate occasions, that I am not under investigation, I nevertheless concur with the judgement of the Department of Justice that you are not able to effectively lead the Bureau," POTUS wrote in his Dear Jim letter.
(The now-former FBI Director announced in March that the Feds have been investigating the Trump campaign for collusion with Russia.)
After the firing, Trump expanded on his side of events in a Thursday interview with NBC's Lester Holt. He said Comey asked him to dinner to talk about job security. There, the president supposedly asked if he was under investigation for colluding with Russia to win the 2016 presidential election.
The FBI Director supposedly told him he wasn't subject to a probe although most legal analysts find that hard to believe.
The FBI Director's associates also dispute Trump's side of events, saying there is no way it happened like that. Certain people reportedly had knowledge of a January 27 dinner between the two and Comey talked about it with them. They told The New York Times that according to Comey's telling, the President asked the FBI Director for his loyalty.
Mr. Comey's associates said that the new president requested the dinner he described, and said that he was wary about attending because he did not want to appear too chummy with Mr. Trump, especially amid the Russia investigation. But Mr. Comey went because he did not believe he could turn down a meeting with the new president.
"He tried to stay away from it [the Russia investigation]," a former senior FBI official, who worked closely with Comey and keeps in touch with him, told NBC. "He would say, 'Look sir, I really can't get into it, and you don't want me to.'"
Sources told that outlet that it was Trump, not Comey, who set up dinner on Jan. 27.
"The president is not correct," the former official said. "The White House called [Comey] out of the blue. Comey didn't want to do it. He didn't even want the rank and file at the FBI to know about it." This source explained Comey couldn't do much to reject the invitation because Trump was his boss.
So what if those tapes did exist? The political ramifications aside, would such recordings even be legal?
For the sake of this article, we're treating this like a hypothetical. After all, the President never claims he was behind the recording, or that these tapes actually exist. POTUS simply popped off, at the very least. Because of the nature of that post, we have to acknowledge that the who, what, when, where, why of it all remains incomplete.
The dinner is supposed to have happened in the White House. That's Washington D.C., so we're dealing with federal law. Let's say Comey was recorded without his knowledge. Federal only requires one-party consent to record a conversation as long as it isn't being used for a criminal or tortuous purpose. Assuming Trump is this one-party, then yeah, it's perfectly legal.
It's worth mentioning that Florida, where the President spends many weekends, requires "two-party consent" for recording a conversation. In other words, everyone involved has to allow it assuming they have a reasonable expectation of privacy. We're unaware of alleged tapes from the "Winter White House" in Mar-a-Lago, however.
Comey's firing elicited Nixon comparison from Trump's critics, and Friday's tweet only encouraged that. Comparison to POTUS 37 should put 45's situation in high-relief. You don't know about President Richard Milhous Nixon if you don't know about him secretly taping the Oval Office. It ended up getting him in trouble, leading to his resignation, but not for the recordings, per se. He had refused to hand over the audio in spite of subpoenas, leading to count three in the Articles of Impeachment levied against him.
In refusing to produce these papers and things Richard M. Nixon, substituting his judgment as to what materials were necessary for the inquiry, interposed the powers of the Presidency against the the lawful subpoenas of the House of Representatives, thereby assuming to himself functions and judgments necessary to the exercise of the sole power of impeachment vested by the Constitution in the House of Representatives.
It is his behavior around the tapes, and not the tapes themselves, that led to his downfall. Of course, that audio proved his involvement in the cover-up of the burglary at the Watergate hotel. Also note that counts one and two in the Articles of Impeachment accused 37 Nixon of hindering probes, and misusing federal agencies. Indeed, the so-called "Smoking Gun" tape, released a few days before his resignation, showed him telling aides to make the CIA tell the FBI to cease investigating the Watergate break-in.
His history may be relevant to Trump since Rep. Adam Schiff (D-California), the ranking member of the House intelligence committee, demanded POTUS hand over the tapes.
"The President should immediately provide any such recordings to Congress or admit, once again, to have made a deliberately misleading – and in this case threatening – statement," Schiff wrote.
Schiff to Trump: Hand over the Comey "tapes" to Congress or admit it's baloney pic.twitter.com/22pE6kzu40

— Bradd Jaffy (@BraddJaffy) May 12, 2017
This isn't a subpoena, though. The statement lacks legal power, and will continue to do so for as long Trump keeps his political allies in Congress. It should be kept in mind in case political fortunes change but even if that happens, the final result depends on Trump's response.
[Screengrab via NBC]
Have a tip we should know? [email protected]