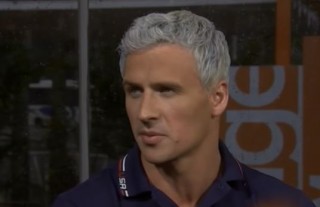 With the Olympic games in full swing, the big story out of Rio this week has been the alleged robbery of four American swimmers. Reports that Ryan Lochte, James Feigen, Gunnar Bentz, and Jack Conger were robbed over the weekend on their way back to the Olympic village from a party first surfaced on Sunday. Since then, a whirlwind has picked up surrounding the story, with Olympic spokesmen, the media, as well as Brazilian and U.S. officials getting swept up in its wake. And it all may have started with a conversation between Lochte and his mother.
First, the International Olympic Committee said the robbery never happened, then the U.S. Olympic Committee said it did, and Lochte gave a detailed account of it to NBC. The whole thing seemed to settle down, but then Brazilian police said Lochte and Feigen told different stories, a judge tried to bar them from leaving the country, their teammates were pulled off their flight home, and the U.S. State Department got involved, with a spokesman issuing a statement, and consulate representatives offering assistance.
But how did we even get to this point? After all, none of the swimmers even filed a police report. The story first broke with reports that they had been robbed at a party.
BREAKING: @USASwimming Gold medallist Ryan Lochte has been held up at gunpoint at a party in Brazil.
Details on @FOXSportsNews 500.

— Ben Way (@BenWayFOX) August 14, 2016
Then, the IOC refuted the report, saying that Lochte and the USOC  denied it.
Shortly thereafter, however, Lochte's mother, Ileana Lochte, told USA Today that her son indeed had been robbed, and that's when the story picked up momentum. Clearly, Ryan had told his mother he had been robbed. But is it possible that he wasn't being completely honest with her? I'm not accusing him of actually lying, but it's not out of the realm of possibility.
No one disputes that Lochte and his teammates were out late partying that night. What if something happened that he didn't want to get back to people back home? Authorities are now saying that the swimmers were at a gas station and caused damaged to a bathroom door before getting into an altercation with the manager and a security guard. Maybe Lochte and his teammates didn't want anyone to find out about that. 
So instead of telling his mother that he was out partying until the wee hours of the morning, or that he got into a fight at a gas station, he says he was robbed. And he tells his buddies in the Olympic village to cover for him. Crisis averted, his privacy is intact, and his family thinks he's the poor victim.
But then the storm came. The media and internet crashed on this story like a tidal wave, and Lochte needed to keep his head above water. So he holds an interview with NBC, who's broadcasting the Olympics, and tells a detailed story about getting robbed while a gunman held a weapon against his head. The story got a little more high-profile than Lochte wanted, but he addressed it, backing up what his mother said, and he put a lid on it. It's not like he went to the cops about it, so there's no reason for anyone to want investigate further.
Only the city of Rio de Janeiro has been a little touchy about conditions during the Olympics. Before the games started, there were questions about whether the city could handle such a large-scale event. Concerns regarding the economy, violence, political unrest, and the Zika virus hung like a cloud over the city in the months leading up to the games. When athletes first arrived at their quarters, reports of the poor living conditions got out. Some tweeted pictures of what they felt were inadequate conditions.
#IOCLuxuryLodging. Putting together a shower curtain so we can shower and not flood the place. pic.twitter.com/omaBJ7Dlje

— Andrew Bogut (@andrewbogut) August 2, 2016
So when there was a report that a high-profile, medal-winning athlete was robbed at gunpoint and there was even a shred of doubt over whether it happened, you can be sure that officials in Rio were going to check it out. The city's reputation had been dragged through the mud enough this summer, so they were not about to let some fake story perpetuate it. And just like that, Lochte was being questioned by Brazilian authorities.
If he was lying, he certainly wasn't going to stop now. Not only would he be admitting that he lied to his mother, he'd be embarrassing her on a global scale after she stood up for him in the media. He'd also be bringing shame on his fellow Olympians. But the Olympics only last a couple of weeks, and soon enough, he'd be back home and everyone outside of the swimming world would forget about him and this whole mess. Unfortunately, the questions kept coming, and the answers just didn't add up.
Investigators couldn't find the driver who supposedly drove the swimmers when they got pulled over. Lochte and Feigen gave different versions of the story when they spoke to authorities. Security footage of them returning Sunday morning seemed to show them in better spirits than would be expected if they had just been held up at gunpoint.
Lochte himself then told a different version of the story to NBC's Matt Lauer, saying that the taxi wasn't pulled over, and no one held a gun to his head. In this retelling, Lochte was returning to the cab from a gas station bathroom and the driver wouldn't move; the alleged gunman pointed his weapon in Lochte's direction, not against his forehead.
The gas station story lines up the most with the latest report of a swimmer fighting with a security guard. Maybe that was the actual robbery and the footage could confirm Lochte's story. Or maybe it shows what he and his teammates were trying to cover up.
With all the inconsistencies, it stands to reason that someone hasn't been telling the whole truth. The one thing that's for sure is that Lochte did not think we'd still be talking about it. And to think it may have started with a lie to his mother.
[Screengrab via NBC]
This is an opinion piece. The views expressed in this article are those of just the author.