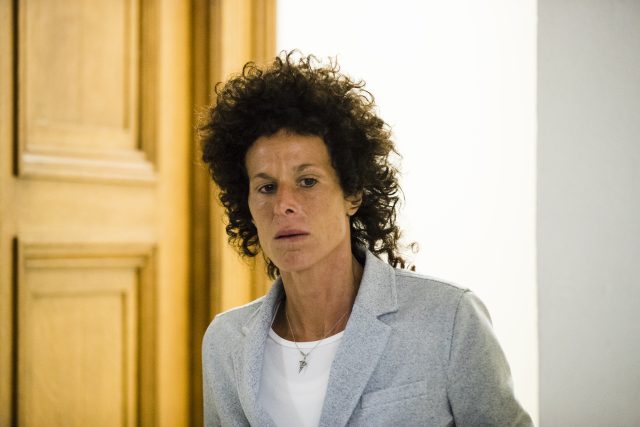 NORRISTOWN, Pa. (AP) — Bill Cosby's chief accuser said she shot down the actor's casual advances twice before she found herself paralyzed and unable to fight him off the night she took pills that he convinced her were safe herbal supplements.
Andrea Constand emerged from 12 years of silence Tuesday to testify at Cosby's sexual assault trial.
Constand, who returns to the witness stand Wednesday, described how her professional relationship with the Temple University trustee evolved into a friendship that she considered critical to the school's athletics department where she worked.
At the same time, she said, Cosby became more flirtatious and suggestive — grabbing her thigh during one encounter at his home and attempting to unbutton her pants in another. Both times, Constand said, she made it clear she didn't welcome the behavior. But she didn't feel threatened.
"I'm not here for that. I don't want that," Constand recalled telling him.
The next time she visited Cosby's home, to discuss her future with the women's basketball team, Constand said the pills Cosby gave her left her incapacitated as he grabbed her breast and touched her genitals.
She said she awoke in the early morning, quietly passing Cosby in the kitchen as she left so she could make it to her Temple office on time. She said she didn't tell anyone about the alleged assault at the time out of loyalty to the women's basketball team, which she managed.
"I did not want to stir up any trouble," she said. "He was a trustee, he was an alumni there. And I believed he supported many of the athletic programs," Constand said.
She said she also feared what Cosby might do.
"I felt that if I had gone to the police, that Mr. Cosby would retaliate and try to hurt me, that he would try to hurt me or my family in some way," she testified.
Cosby, 79, is charged with drugging and sexually abusing Constand in 2004. The TV star once dubbed America's Dad could get 10 years in prison if convicted.
His lawyers tried to poke holes in Constand's story, citing differences between her courtroom testimony and the accounts she gave to police and in a lawsuit in 2005. The defense has argued the two had a romantic relationship, that Constand wasn't incapacitated and that the sexual encounter was consensual.
Constand, an athletic 6-footer with dark curly hair, was calm and direct as she testified, frequently speaking straight to the jury.
Cosby, sitting across the room at the defense table, leaned in to listen, whispered to his lawyer and, at times, shook his head.
Before Tuesday, Constand had never spoken about Cosby in public, barred from doing so under the terms of a confidential settlement they reached in 2006. Her deposition from that lawsuit remains sealed.
Some 60 women have come forward to say Cosby sexually violated them, all but destroying his nice-guy image, but the statute of limitations for prosecution had run out in nearly every case. Constand's case is the only one in which Cosby has been charged.
The defense has pointed out that phone records show Constand called Cosby 53 times after she says he assaulted her. Constand told the jury the calls mostly involved the women's basketball team, especially around tournament time.
"He was a Temple friend, somebody I trusted. A mentor," she said.
The Associated Press does not typically identify people who say they are sexual assault victims unless they grant permission, which Constand has done.
Have a tip we should know? [email protected]