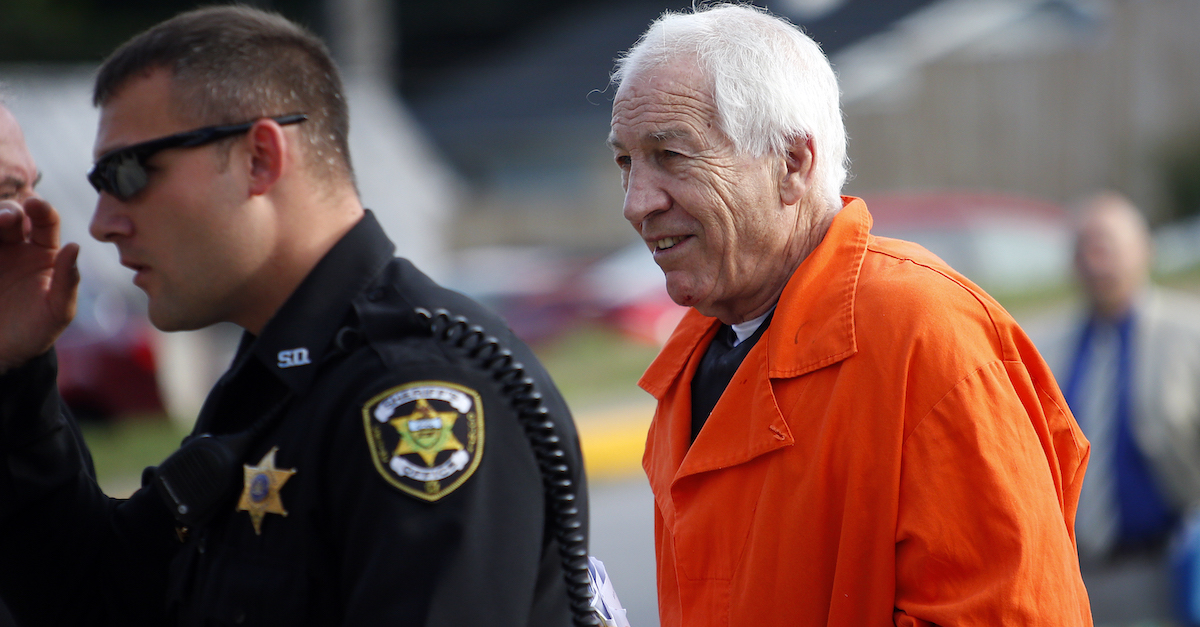 Jerry Sandusky, the former Penn State University assistant coach who was convicted on numerous criminal counts connected to serial child molestation in 2012, should get a new prison sentence, a Pennsylvania appeals court ruled Tuesday.
The Superior Court shut down Sandusky's attempt to get a new trial, while also deciding that he is entitled to be re-sentenced. A press release included a statement from Sandusky's attorney Al Lindsay, in which Lindsay said he would be taking this to Pennsylvania Supreme Court in the hopes that the court will "correct one of the most profound injustices in the history of American Jurisprudence."
He also relayed a statement Sandusky apparently wanted "communicated to the media."
"We will not rest until the pubic understand what has happened and decision-makers acknowledge the injustice. It will take reasonable people with a 'hearing heart,' conscience and courage. All deserve an opportunity to discover the truth," the statement says. "It's time to unmask those who have been deceitful and dishonest. It's time to expose those who have hidden personal agendas. Now is the time to present the 'real scandal' and all the damage that his been done."
"What has happened is a travesty," the statement ends. "What will happen will be our legacy."
The court determined that Sandusky was wrongly sentenced using mandatory minimums. Sandusky, now 75, was sentenced to 30 t0 60 years in prison seven years ago for sexually abusing 10 boys. That was a conviction on 45 counts. Sandusky remains behind bars at the Laurel Highlands state prison.
You can read the court's 119-page opinion in full below.
The three judges on the panel were all in agreement that this sentencing according to mandatory minimums was not constitutional.
"We agree with the parties that pursuant to the holdings in Alleyne and Wolf, the imposition of mandatory minimum sentences was illegal," the Superior Court opinion said.  "Accordingly we affirm that part of the PCRA [Post-Conviction Relief Act] court's order denying a new trial, but we vacate the judgment of sentence in its entirety and remand for re-sentencing without imposition of mandatory minimum terms."
Jerry Sandusky to get new s… by on Scribd
[Image via Justin K. Aller/Getty Images]
Have a tip we should know? [email protected]