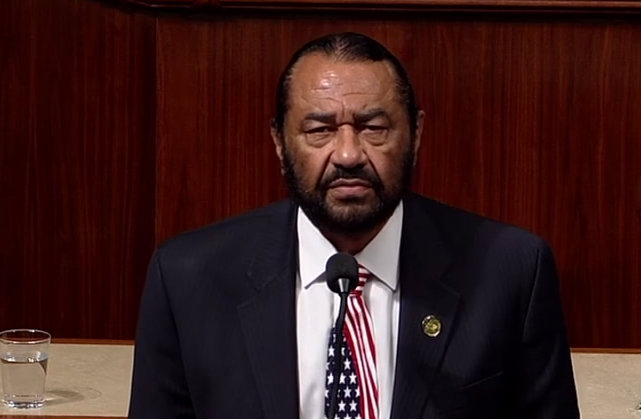 U.S. Congressman Al Green (D-Texas 9th District) promised again Friday that he'll try to get President Donald Trump impeached. This time it's over the "shithole countries" remark.
Congressional condemnation of racist bigotry is not enough. In Congress, talk is cheap-it's how we vote that counts. Next week, I will again bring a resolution to impeach @realDonaldTrump. I will put my vote where my mouth is. #RepealandReplaceTrump

— Congressman Al Green (@RepAlGreen) January 12, 2018
Multiple outlets reported Thursday afternoon that during a meeting with lawmakers, the president made a racist statement about stopping immigration from "shithole countries."
From NBC:
.@NBCNews source: As Durbin explained how deal would impact ppl from Haiti, Trump said, "Haiti? Why do we want people from Haiti here?" Then they got Africa. 'Why do we want these people from all these shithole countries here? We should have more people from places like Norway."

— Christina Wilkie (@christinawilkie) January 11, 2018
"Why do we need more Haitians?" Trump reportedly said, according to The Washington Post. "Take them out." Sources for that quote were described as "people familiar with the meeting." The president also reportedly included El Salvador in disrespectful remarks.
Trump denied saying anything "derogatory," but Sen. Dick Durbin (D-Illinois) publicly insisted that he did.
Never said anything derogatory about Haitians other than Haiti is, obviously, a very poor and troubled country. Never said "take them out." Made up by Dems. I have a wonderful relationship with Haitians. Probably should record future meetings – unfortunately, no trust!

— Donald J. Trump (@realDonaldTrump) January 12, 2018
Durbin, who attended the meeting, called the president's comments "hate-filed, vile and racist," according to the Post. Trump uttered the words "repeatedly," he said.
Nonetheless, it will take some doing for Green to convince the House to impeach Trump on this matter. Republicans command a 239 – 193 majority in the chamber, and the congressman can't even rely on total support from his own party: Minority leader Rep. Nancy Pelosi (D-California 12th District) has previously gone on the record opposing impeachment efforts. Assuming the House votes for this by a majority vote, the challenge is even stiffer in the U.S. Senate. There, full-on removal of the president requires a supermajority. The GOP commands a 51 – 49 advantage in the chamber.
For now, the perception remains that this "shithole" statement won't hurt Trump politically, let alone lose him his job.
Staffers inside the White House aren't that worried about Trump's "shithole" remark — with some predicting it will actually resonate with his base, not alienate it, much like his attacks on NFL players who kneel during the national anthem did.

— Kaitlan Collins (@kaitlancollins) January 11, 2018
Green previously called for Trump's impeachment over the president's "son of a bitch" speech against NFL players who knelt during the national anthem.
[Screengrab via C-SPAN]
Have a tip we should know? [email protected]