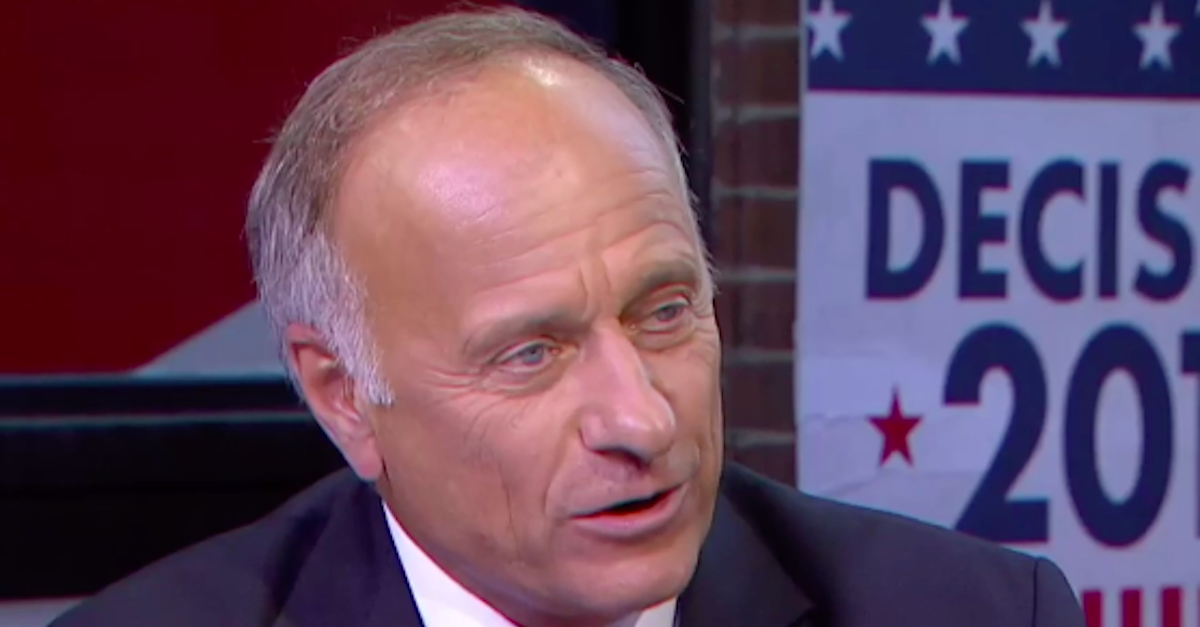 A sitting member of Congress asked quite a question in a New York Times interview that was featured in an article on Thursday.
"White nationalist, white supremacist, Western civilization — how did that language become offensive?"
Those were the words of Rep. Steve King (R-Iowa),who has been a lightning rod for controversy over his racially charged comments. While in the past he's denied being a white supremacist, now he doesn't appear to think that's even a bad thing at all.
"Why did I sit in classes teaching me about the merits of our history and our civilization?" he asked.
While he may be pro-white, King insists he is not against others, telling the Times he is not racist. This, despite once having a Confederate flag in his office even though his state was on the Union side of the Civil War.
Rather than focusing on physical aspects of race, however, King's words appear to be focused on the values that he believes whites inherently bring to Western culture that he feels are superior to those of other backgrounds.
"Where are these contributions being made by these other categories of people you're talking about?" King once asked on MSNBC.
Not that this distinction matters to his critics, who have been able to point to quite a few controversial comments.
King drew backlash after he gave an interview to a publication connected to Austria's Freedom Party, which was founded by a Nazi SS member and now led by an individual with neo-Nazi ties.
"What does this diversity bring that we don't already have? Mexican food. Chinese food," King asked in that interview. "Those things, well, that's fine, but what does it bring that we don't have that is worth the price?"
In March 2017, King tweeted, "We can't restore our civilization with somebody else's babies," in support of Dutch politician Geert Wilders.
Wilders understands that culture and demographics are our destiny. We can't restore our civilization with somebody else's babies. https://t.co/4nxLipafWO

— Steve King (@SteveKingIA) March 12, 2017
King claimed that this tweet had nothing to do with race. Whether his beliefs and words are truly inspired by race or not, they seem to be leaving the impression that he is on the side of those who are. The Daily Stormer, a known neo-Nazi publication, went so far as to say, "Steve King is basically an open white nationalist at this point."
King, however, takes issue with this portrayal. Thursday afternoon, he tweeted a statement in response to the Times article, saying he rejects the labels of white nationalism and white supremacy, "and the evil ideology that they define."
My statement on the New York Times article. pic.twitter.com/IjBHgZYgRD

— Steve King (@SteveKingIA) January 10, 2019
He elaborated that he is a "Nationalist," but that "it's not about race; it's never been about race."
Note: This article has been updated with King's statement.
[Image via MSNBC screengrab]
Have a tip we should know? [email protected]