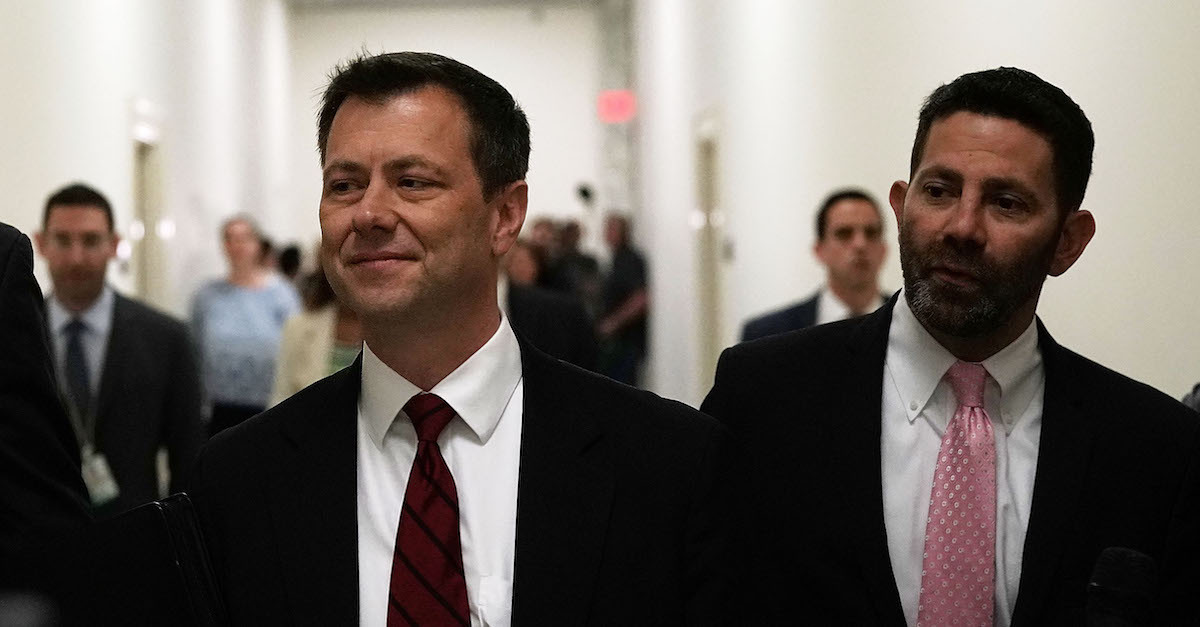 Republican members of the House Judiciary and Oversight Committees were not pleased that embattled FBI agent Peter Strzok would not answer questions on grounds that they were related to the ongoing Russia investigation. Reps. Trey Gowdy (R-S.C.) and House Judiciary chair Bob Goodlatte (R) were at the center of it all, and Goodlatte even threatened to hold Strzok in criminal contempt of Congress.
Though the exchanges were heated, Strzok wasn't actually held in contempt. If he is charged with contempt, as Law&Crime's Ronn Blitzer noted, it is possible he could be found to be in the wrong.
Three other notable times Congress did threaten and charge someone with contempt. Anne Gorsuch (Supreme Court Justice Neil Gorsuch's mom), former U.S. Attorney General Eric Holder and former IRS unit director Lois Lerner have all felt the wrath of congressional contempt.
Anne Gorsuch 
From 1981 to 1983, Anne Gorsuch served in the Reagan Administration as the first female administrator of the Environmental Protection Agency (EPA). You might also see her identified as Anne Burford in news clippings. As mentioned, she is also the mother of Neil Gorsuch. The New York Times archives from 1982 show that Gorsuch was also the first cabinet-level member to ever face such a charge. 
The House of Representatives, indeed, voted to hold Gorsuch in contempt for refusing to supply documents to the House at President Ronald Reagan's demand. The issue had to do with EPA enforcement of hazardous waste dump clean-up. The EPA was accused of mishandling $1.6 billion in funds.
Gorsuch was defiant after the contempt vote.
"What happened tonight, if pursued to its conclusion, wouldn't do anything. It would not produce the documents, it would not decide the issue of separation of powers. It would only send me to jail for a much-needed rest," she said.
Gorsuch would resign in 1983 and the White House gave Congress the documents it sought.
Eric Holder 
The House Oversight Committee in 2012 voted to hold former Barack Obama U.S. Attorney General Eric Holder in contempt for not cooperating in their investigation of the so-called "Fast and Furious" controversy.
As the Washington Post reported at the time, this was Obama's first use of executive privilege. Holder himself said such cooperation would "raise substantial separation of powers concerns and potentially create an imbalance in the relationship" between the executive and legislative branches.
Despite much hand-wringing, D.C. federal Judge Amy Berman Jackson tossed out the contempt charge in 2014, calling it "entirely unnecessary."
Lois Lerner 
Finally, there is the case of Lois Lerner, who you may recall was embroiled in an Internal Revenue Service controversy surrounding the alleged unfair targeting of conservative groups.
Lerner repeatedly refused to testify about her role in this and was slapped with a contempt charge. Because Lerner cited her Fifth Amendment right against self-incrimination, however, the Department of Justice tossed the contempt charge.
Republicans had said that Lerner's opening statement before the House Oversight Committee amounted to her waiving her Fifth Amendment right. U.S. Attorney in D.C. Ronald Machen, on the other hand, said that wasn't the case.
"[DOJ lawyers determined Lerner] did not waive her Fifth Amendment right by making an opening statement on May 22, 2013, because she made only general claims of innocence," he said. "Given that assessment, we have further concluded that it is not appropriate for a United States attorney to present the matter to the grand jury for action where, as here, the Constitution prevents the witness from being prosecuted for contempt."
[Image via Alex Wong/Getty Images]
Have a tip we should know? [email protected]