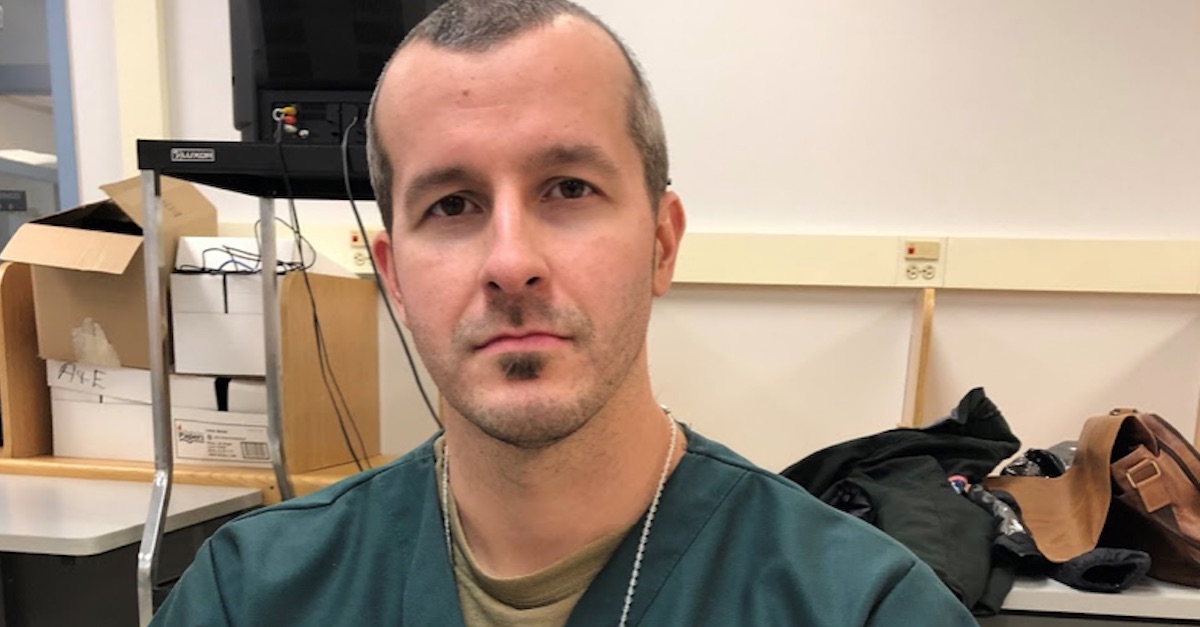 The Colorado Bureau of Investigation (CBI) announced last week that it would be publicizing a report and audio recording on Thursday related to a five-hour confession Chris Watts made to authorities on Feb. 18. The CBI said Watts provided "additional information" about the murders of his pregnant wife Shanann Watts, and his young daughters Bella, 4, and Celeste, 3.
After his wife and kids disappeared, Watts shamelessly begged for the safe return of his family on a local news broadcast. The man who presented himself as a concerned husband and father turned out to be the one who murdered them all. He even tried to blame the murders of the girls on Shanann, saying that he only killed his wife because she murdered their children. He now admits, in great detail, that this was all a lie.
In the opening, Watts said he enjoyed no longer being in the Weld County Jail in Colorado because "other inmates would constantly yell at him from their cells giving him advice on how he could kill himself in his cell and what the other inmates would do to him given the chance."
"Watts said everyone in the jail knew him and why he was there," the report says. "[He] explained the jail had to lock down all of the inmates just for him to walk down the hallway." After this, conversation shifted to Watts' extramarital affairs.
He denied engaging in a sexual relationship with a man named Trent Bolte or having "any gay experiences," adding that he didn't know what WhatsApp was (the app Bolte claimed to have met Watts on). He admitted to having an affair only with Nichol Kessinger, a co-worker. He said she lied and said she didn't know he was married to "save face." He said he felt like their love was "true," that she pursued him (which he found unusual), and that they did things together that reminded him of his childhood/did things together he'd never gotten to do.
Examples provided were going to a drag race and camping. He said she wanted to have sex all the time. He said that he told Kessinger that he felt she had him on a leash. At the same time, Watts said he felt like he was more in control with her.
Shockingly, Watts said he has pictures of Shanann, Celeste, and Bella in his prison cell, and claimed he talks to them every morning and every night.
"He has a book in his cell, which was the same book he used to read to CELESTE. He reads the book to his daughters, along with some scripture, every night. He wished it never happened and he never had a blinder over his eyes and could have seen what was going on," the report said.
Watts claimed that the night Shanann came home for the last time she got into bed around 2:00 a.m. He said he feared that she knew he was having an affair. Nonetheless, they had sex, he claimed. When they woke up the next morning, he said they had a talk that ultimately led to him strangling Shanann to death.
"SHANANN told him to get off of her and that she knew he had someone else. He couldn't bring himself to tell her about KESSINGER. He told SHANANN he didn't love her and SHANANN said, 'You're never gonna see the kids again…you're never gonna see them again…get off me…don't hurt the baby,'" the report continued. "He immediately put both of his hands around SHANANN's neck and strangled her."
Their unborn son was to be named Nico.
"Every time I think about it, I'm just like, did I know I was going to do that before I got on top of her?" Watts said.
"Like, the whole—everything that happened that morning I just don't—I don't know, like…like, I try to go back in my head…I'm just like, I didn't want to do this, but I did it…everything just kinda like…it just felt like it was," he stumbled. "I don't even want to say it felt like I had to, it just felt like there was already something in my mind that was implanted that I was gonna do it and when I woke up that morning it was gonna happen and I had no control over it."
He claimed she never fought back or screamed and surmised she might have been praying as he killed her.
He read the bible that said, "Forgive these people for they do not know what they do," and maybe SHANANN was saying that in her head at the time.

Time seemed to stand still and he saw his life disappearing before his eyes but he couldn't let go.
Eventually, he said, Bella walked into the room and asked what was wrong with her mother. She watched him drag her lifeless body down the stairs. He believed that the noise of dragging a body down the stairs woke Celeste up. He drove the girls in his truck for 45 minutes to his employer's property, where he would stuff their bodies in oil tanks. He said they were alive; Bella had her favorite blanket and Celeste had a stuffed animal with her. He'd brought them there under the guise that they were going to get Shanann medical attention.
"Daddy, it smells," Bella said. Watts then strangled Celeste in the back seat of his truck as Bella watched. He said Bella said nothing. Then he disposed of Celeste's body in an oil tank. He returned to the truck and strangled Bella. He said her last words were "Daddy, no!" He placed her body in a separate oil tank and couldn't explain why.
He said that when the prosecution mentioned Bella fought back and bit her tongue, he wanted to bang his head against a wall.
Watts said he pleaded guilty to prevent 2-4 years of his attorneys lying for him. He said that they asked him 100 times if he was sure he wanted to take a deal that took the death penalty off the table.
He also said that the lie he told about Shanann killing the girls was an idea he got during interrogation. "[I] just went with it," he said.
Watts also claimed to have found God.
In advance of this report, attorneys revealed some of the contents of the five-hour interview on Dr. Phil.
During a Dr. Phil segment, attorney Steven Lambert said that the revelation of the affair directly led to the unconscionable murders.
Lambert said that when Shanann came home in August 2018, she and Chris had a fight. He said Watts told her that he was having an affair.
"He told her that it was pretty much over between them," Lambert said. "[Shanann] had said something to effect of 'Well, you're not going to see the kids again.'"
"As a consequence of that conversation he strangled her," he continued. He said Chris Watts told Bella that her mom "was sick and that they needed to take her to the hospital to make her better."
Lambert revealed that among Bella's last words were "Please, daddy, do not do to me what you just did to CeCe."
The attorneys said that their gut feeling on Watts' recounting of the murders is that it is "authentic." Lambert said he personally had "no reason to doubt it," unless Watts is protecting someone else.  The attorney panel noted that Watts wasn't offered anything for details (and realistically there's nothing that could be offered that would change his situation). They could only surmise that Watts had found "jailhouse religion." Watts claimed he's "remorseful" and has "found God."
Lambert said that Watts was oddly forthcoming in interviews when giving a "full confession," almost like he was a "neighbor" telling them what happened.
In November 2018, Watts was sentenced the multiple lifetimes in prison without the possibility of parole. Watts was sentenced to an additional 12 years for each of three counts of tampering with the bodies, plus 48 years for ending his wife's pregnancy.
Watts is incarcerated at the Dodge Correctional Institution in Waupun, Wisconsin.
Chris Watts Interview 2/8/19 by Law&Crime on Scribd
[Image via Colorado Bureau of Investigation]
Have a tip we should know? [email protected]