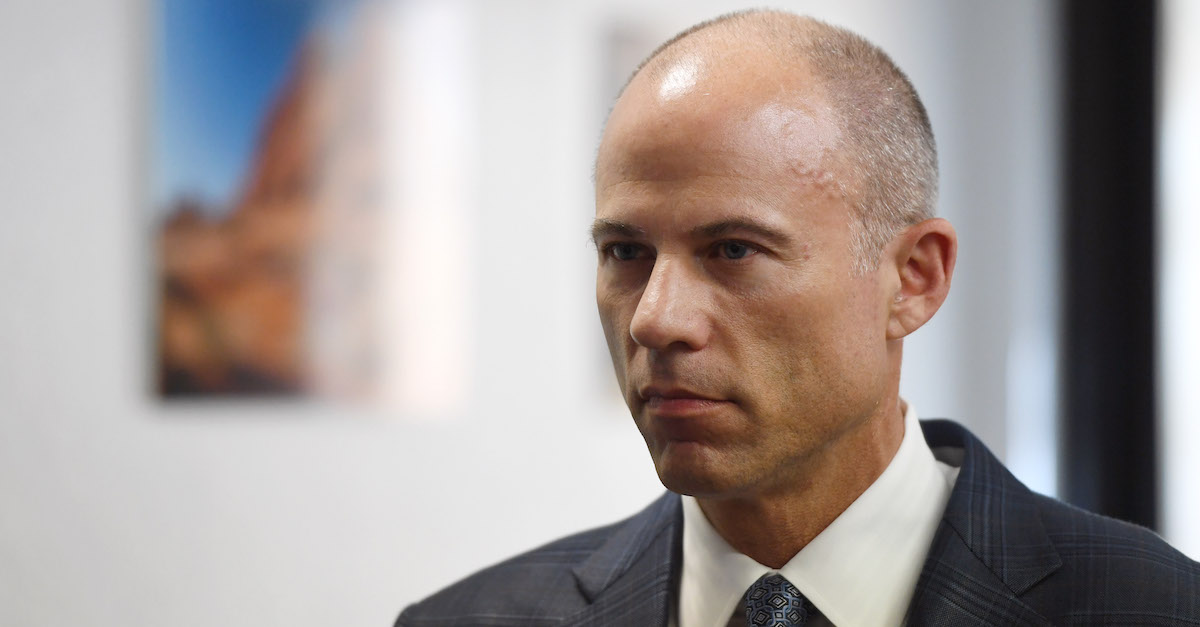 Michael Cohen and his attorney Brent Blakely are looking to make life difficult for Stormy Daniels and her lawyer Michael Avenatti when it comes to the defamation claim the adult film star brought against Cohen.
Avenatti recently filed a motion asking for the court's permission to amend Daniels' lawsuit to drop the defamation claim, but in a Tuesday court filing, Cohen's side said no. Basically, Cohen's team says that Daniels and Avenatti can't get out of it that easy and have to live with the consequences. Blakely is confident that those consequences will include a court ruling in Cohen's favor and an order for Daniels to pay Cohen's attorneys' fees.
The defamation claim stemmed from Cohen's statement in response to a question about why he would pay Daniels $130,000 to keep quiet about an alleged affair with Donald Trump, if her claims are false as the president says. Cohen's response was, "Just because something isn't true doesn't mean that it can't cause you harm or damage. I will always protect Mr. Trump."
Cohen argues that this did not constitute defamation because 1) it was not a false statement about Daniels, and 2) it's protected speech about a matter of public concern, which is covered by California's anti-SLAPP law. That law protects people from defamation claims that are allegedly made to infringe on one's free speech. To that end, he filed a motion to strike the defamation claim.
Recently, President Trump won when he filed a similar motion to strike a separate defamation case Daniels brought against him, and the court awarded Trump attorneys' fees. Now, rather than risk a similar outcome in the Cohen case, Blakely claims, Avenatti is hoping to be able to drop the claim altogether. Cohen, however, wants Avenatti and Daniels to have to suffer the loss in court.
Judge S. James Otero hinted in a previous ruling that he doesn't think the defamation claim has much of a chance. When Cohen tried to get the judge to impose a gag order on Avenatti to prevent unfair influence on potential jurors, Judge Otero said no, indicating that this case was nowhere near going to trial.
'The sole cause of action asserted against Mr. Cohen in his personal capacity is a claim for defamation, which must survive Defendant's Motion to Strike and many other hurdles before a trial can even be contemplated," the judge wrote. This seemed to show that the judge didn't think the defamation claim would survive that long. Blakely believes Avenatti now sees the writing on the wall.
"Correctly perceiving that his chances of prevailing against Mr. Cohen's Anti-SLAPP motion as hopeless, Plaintiff's counsel has opted for the legal equivalent of running away," Blakely wrote.
It didn't have to be this way, Blakely claimed. He cited a letter he sent to Avenatti back in March after the defamation claim was added to the case. In it, he laid out the legal arguments that favored Cohen, and asked Avenatti to consider dropping the claim. In the letter, Blakely warned that if Cohen wins on an anti-SLAPP motion, Daniels would be responsible for attorneys' fees, and that Avenatti himself could be hit with sanctions for a "frivolous pleading."
Since Avenatti waited seven months to drop the claim, Cohen and Blakely are no longer willing to let this one go, claiming that no matter what happens now, Daniels loses.
Blakely supports this by claiming that even if Avenatti gets his way, Daniels still loses. He argued that should the court allow a voluntary dismissal of the defamation claim, Cohen should still be considered a "prevailing party" on the claim for the purpose of getting attorneys' fees.
"Rather than allowing Plaintiff to evade responsibility for the meritless claim she filed against Mr. Cohen, by filing this Motion to Amend Plaintiff's counsel has shot himself in the foot," Blakely wrote.
Not only does Blakely's court filing argue that Daniels is on the hook, it also claims that Avenatti should share the burden of paying Cohen's fees because he maintained the "frivolous" claim "for the improper purpose of harassing Mr. Cohen." The Federal Rules of Civil Procedure say that attorneys can face sanctions for frivolous lawsuits.
In a statement to Law&Crime, Avenatti shot back, citing Cohen's recent criminal conviction.
"Michael Cohen, who recently pled guilty to eight felonies, expects people to believe his version of events? That is laughable. Brent Blakely and Michael Cohen deserve one another as they both have a problem with the law and the facts," Avenatti said.
With the defamation claim appearing to be going away no matter what, all that remains in the legal battle between Daniels and Cohen is her initial claim against him and Trump regarding the hush agreement she made to keep quiet about the alleged affair. Daniels claims that the agreement is unenforceable, in part because Trump never signed it. Trump, meanwhile, has argued that this is a good reason to have the claim against him dismissed, since he's not a party to the agreement and has no intention of trying to enforce any part of it.
Note: This article has been updated with a statement from Michael Avenatti.
[Image via Ethan Miller/Getty Images]
Have a tip we should know? [email protected]